Carter free throws lift Nets over Heat
Vince Carter made three free throws in the final 10 seconds to help the New Jersey Nets hold on for a 94-92 win over the Miami Heat on Sunday in an exhibition game played in London.
It was the Nets' second win over the Heat in four days, after a 100-98 overtime victory in Paris on Thursday as part of the NBA's European pre-season tour.
Carter finished with 19 points and Yi Jianlian added another 17 in his debut for the Nets (2-0).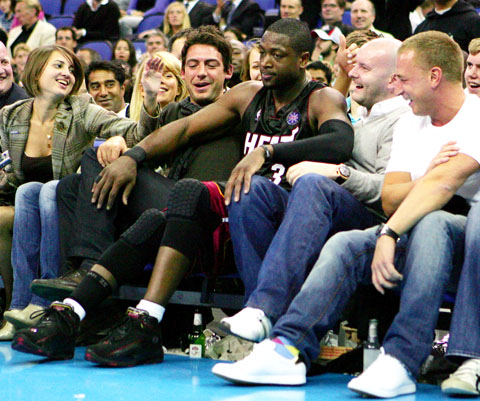 The Miami Heat's Dwyane Wade, center, ends up in the front row seats during an NBA preseason game against New Jersey Nets on Sunday in London.
PHOTO: AP
Marcus Banks had 19 points and Dwyane Wade added 18 for the Heat (0-3), who fought back from a 19-point first-quarter deficit to push the game to the final seconds.
Both sides struggled to keep possession of the ball and combined for 47 turnovers. However, there were some highlights, with Wade and Michael Beasley providing the most memorable play midway through the fourth quarter.
After Banks made an block on Devin Harris, Wade led a fast break and sent a high pass to a soaring Beasley, who finished with one-handed alley-oop dunk.
That dunk gave Miami a 76-73 lead, but it wasn't enough to overcome its dismal first quarter.
New Jersey went on an early 17-0 run to lead 21-5 before Nets coach Lawrence Frank pulled his starters 6:50 into the first quarter. Carter scored eight of his team's first 12 points.
The Nets maintained a double-digit lead for most of the first half until the Heat went on a 14-5 run to close the second quarter, cutting its deficit to 50-47.
The teams stayed within four points of each other for most of the fourth quarter, and Carter made it 93-89 from the line with nine seconds left before Banks put the Heat back within one with a 3-pointer. Carter then missed his second free throw but Miami lost the ball out of bounds with several players scrapping for the rebound with 1.2 seconds left.
Comments will be moderated. Keep comments relevant to the article. Remarks containing abusive and obscene language, personal attacks of any kind or promotion will be removed and the user banned. Final decision will be at the discretion of the Taipei Times.