Cheruiyot, Grigoryeva win Chicago titles
Kenya's Evans Cheruiyot made it two marathon triumphs in as many career races on Sunday by winning the Chicago Marathon men's title, while Russian veteran Lidiya Grigoryeva captured the women's crown.
Cheruiyot won in two hours, six minutes and 25 seconds to head a Kenyan podium sweep. David Mandago, at 33 the eldest runner in the men's field, was second in 2:07:37 with Timothy Cherigat third in 2:11:39.
Cheruiyot made a triumphant marathon debut last year at Milan.
Lidiya Grigoryeva of Russia celebrates after winning the women's division of the Chicago Marathon on Sunday.
PHOTO: AP
Mandago surged ahead in the 23rd mile, but Cheruiyot, 26, stayed within reach and made his move to grab the lead in the 25th mile and claim the victory by 72 seconds, the sixth triumph in a row at Chicago by a Kenyan man.
In the 19th mile, Mandago had motioned for Cheruiyot to share the work at the front as warm weather made the going tougher.
"He told me to push the pace," Cheruiyot said. "But I didn't want to go to the front because I didn't have experience with the marathon."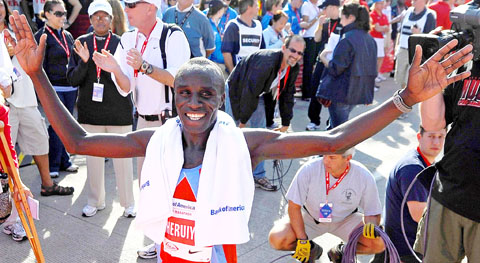 Evans Cheruiyot of Kenya celebrates after crossing the finish line with a time of 2:06:25 to win the Bank of America Chicago Marathon in Chicago, Illinois, on Sunday. Around 45,000 people registered to run in this year's event.
PHOTO: EPA
Cheruiyot's victory gave Kenyan men victories in four of this year's five World Marathon Majors series races — London, Boston, the Olympics and Chicago — with the New York Marathon still to come.
However, there was only more heartache for Kenya's Daniel Njenga, ninth in 2:17:33. Njenga has had six podium finishes at Chicago, including a third-place effort last year, but has yet to taste victory.
Reigning Rotterdam Marathon champion William Kipsang was eighth, his course record-setting victory in April having given the Kenyan the fastest entry time at Chicago.
Kenya's Emmanuel Mutai, fourth at the London Marathon last April in a personal best 2:06:15, was sixth in 2:15:36.
Grigoryeva, last year's Boston Marathon winner, surged ahead of compatriot Alevtina Biktimirova in the 21st mile and won in 2:27:17, defeating runner-up Biktimirova by 2:15 seconds with Japan's Kiyoko Shimahara third in 2:30:19.
For Grigoryeva, the unseasonable heat was welcome, because it slowed the pace long enough for her to warm up a sore hip.
Then, when Biktimirova picked up the pace in the 14th mile, Grigoryeva was ready to respond.
"I was happy my friend Biktimirova picked up the pace after halfway, and no one else wanted to do it," Grigoryeva said. "I knew I was faster than she is."
The Russians ran together for 5 miles (8km) before Grigoryeva took control.
Romania's Constantina Tomescu-Dita, the Beijing Olympic women's marathon champion and 2004 Chicago Marathon winner, was fourth in 2:30:57.
She became the oldest Olympic marathon champion at age 38 with her August gold in China.
"I'm not disappointed," said Tomescu-Dita, who completed her fourth marathon in four countries on three continents in less than nine months.
"If I didn't have to travel so much, I might have been in the top three. My legs were really too tired. The others didn't run in Beijing and were training specifically for this race," she said.
Ethiopia's Berhane Adere, who was bidding for an unprecedented third consecutive women's title, finished 10th in 2:34:16.
Comments will be moderated. Keep comments relevant to the article. Remarks containing abusive and obscene language, personal attacks of any kind or promotion will be removed and the user banned. Final decision will be at the discretion of the Taipei Times.