Wu's bid for glory ended by Briton
Britain's Darren Appleton beat Wu Chia-ching of Taiwan 13-11 to win the World 10-Ball Championship final in Manila on Sunday.
Appleton was in control at 6-1 by playing a good break and some safety shots, before Wu retaliated with three racks for a score of 6-4.
The British player, 32, then took three racks to move ahead 9-4.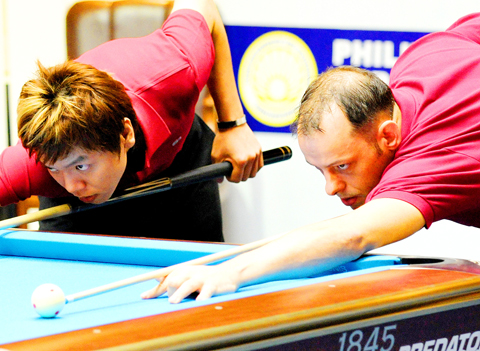 Taiwan's Wu Chia-ching, left, and Britain's Darren Appleton play for the opening lag at the World 10-Ball Championship in Manila on Sunday.
PHOTO: AFP
Wu, the former eight and nine-ball world champion, came up with a sterling 14th rack victory to make the score 9-5. Then Wu, a left-handed pool player, struck four more racks to stay within striking distance.
Appleton played a tactical game to post 12-9. Wu had opportunities to tie the count, but had several miscues to trail 10-12.
On the 23rd rack, Wu pocketed a combination to stay in the hunt at 11-12, but on the 24th rack Wu made a dry break, allowing Appleton to win the match lasting almost four hours, 13-11.
"I have waited for six years to win the title," Appleton said.
He said he had mixed feelings of joy and disappointment because his parents wanted him to concentrate on education, but he decided to go into sports instead.
After trying boxing and soccer, he decided to concentrate on pool, he said.
Asked what he would do with the US$100,000 grand prize, Appleton said: "First, I have to give some to my parents, because we had a difficult way of living."
Wu, who had to settle for the runners-up prize of US$40,000, said: "I didn't have a good break in the last game and that was crucial to me."
A total of 128 players from 43 countries took part in the week-long inaugural World 10-Ball Championship.
Many professionals and amateurs have long had a preference for 10-Ball, in which the 10 is added to the nine-ball rack, making it less likely that any balls are pocketed off the break.
All shots must be called and, unlike in nine-ball, the 10 has to be last on the table when made — it cannot be made early off the break or in a combination shot.
Comments will be moderated. Keep comments relevant to the article. Remarks containing abusive and obscene language, personal attacks of any kind or promotion will be removed and the user banned. Final decision will be at the discretion of the Taipei Times.