NFL: Steelers overcome deficit to beat Baltimore in OT
Jeff Reed's 46-yard field goal in overtime gave Pittsburgh a 23-20 win over Baltimore in the NFL on Monday as the Steelers overcame a 10-point deficit, numerous injuries and a late Ravens comeback.
Reed's third field goal ended a back-and-forth game in which the Steelers were down by 10 late in the third quarter, rallied but couldn't hold a seven-point lead, then found a way to win despite being without their top three running backs.
Pittsburgh came back to win despite losing two players to season-ending injuries, running back and first-round draft pick Rashard Mendenhall (fractured shoulder) and right guard Kendall Simmons (right Achilles tendon).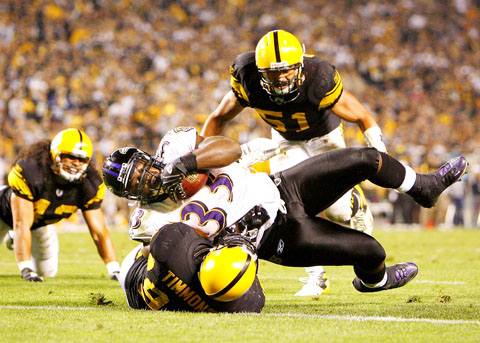 Le'Ron McClain, No. 33, of the Baltimore Ravens gets in for a fourth quarter touchdown between James Farrior, No. 51, and Lawrence Timmons, No. 94, of the Pittsburgh Steelers on Monday at Heinz Field in Pittsburgh, Pennsylvania.
PHOTO: AFP
The Ravens, losing for the seventh time in their past eight games in Pittsburgh and falling out of the AFC North lead, won the important overtime coin toss but were backed up by two penalties and a sack and had to punt out of the end zone.
Then, on third-and-8, Steelers quarterback Ben Roethlisberger found fourth-string running back Mewelde Moore — playing only because of the injuries — on a 24-yard pass for a first down at the Ravens' 31-yard line. On third-and-14, Moore made a 7-yard catch to move the ball to the 28, bringing kicker Reed closer to goal.
"That was important — a 46-yarder there isn't a given, and a 53-yarder isn't easy," Reed said. "I get too much credit. My foot won it, but that's what I'm supposed to do in that situation."
Pittsburgh opened the scoring with Reed's 49-yard field goal on their first possession, but Baltimore responded with two field goals of its own via kicker Matt Stover — from 33 and 20 yards — to go up 6-3.
With 17 seconds to play until halftime, Baltimore's rookie quarterback Joe Flacco threw the first touchdown pass of his career, a 4-yarder to Daniel Wilcox to put the visitors up 13-3 at the break.
Flacco, outplaying Roethlisberger for much of the game, set up that score with completions of 13 yards to Derrick Mason and 25 to Le'Ron McClain, who was in the game because starter Willis McGahee hurt his chest earlier in the 56-yard drive.
With only one first down since the first quarter, the Steelers got a second when Baltimore's Jarret Johnson gave away a foul with an out-of-bounds hit. Roethlisberger was 14-of-24 for 191 yards and was sacked three times.
The momentum was going Pittsburgh's way, but Baltimore tied it 20-20 with four minutes left on the clock, when Flacco hit Derrick Mason for 35 yards ahead of Le'Ron McClain's 2-yard TD run.
Comments will be moderated. Keep comments relevant to the article. Remarks containing abusive and obscene language, personal attacks of any kind or promotion will be removed and the user banned. Final decision will be at the discretion of the Taipei Times.