Aussie swimmers prepare for worst of Beijing smog
Australia's world record-breaking swim team are going to extraordinary lengths to ensure they are not affected by Beijing's chronic pollution, team officials said yesterday.
Many of the squad suffer from respiratory ailments, mainly asthma, but head coach Alan Thompson said they were fully prepared for whatever greets them in the Chinese capital.
"We're seeing the pictures like you are and we're taking all the precautions that we can to assist us," Thompson said here where the team are acclimatizing.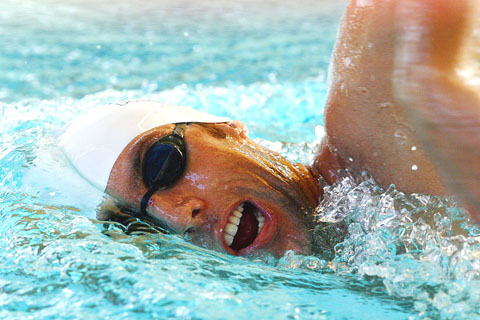 Australian Olympic swim team captain Grant Hackett powers through the water during a training session at the Bukit Jalil sports complex in Kuala Lumpur yesterday.
PHOTO: AFP
A haze of pollution has cut visibility across Beijing to a few hundred meters in recent days, jeopardizing China's promise of a "Green Games."
Last week Beijing ordered more than a million of the city's 3.3 million cars from the roads and closed dozens of polluting factories.
Authorities in the capital yesterday said the situation was easing, with strong winds helping to clear the air overnight.
Thompson said his team was fortunate because most of their activities were indoors, but nevertheless no stone has been left unturned.
"Training is indoors and so is eating and sleeping, so we will probably be one of the lucky ones if there is an issue," he said. "But we've heeded a lot of advice."
Comments will be moderated. Keep comments relevant to the article. Remarks containing abusive and obscene language, personal attacks of any kind or promotion will be removed and the user banned. Final decision will be at the discretion of the Taipei Times.