LE TOUR FRANCE: Tour organizers try to limit damage
TURMOIL Riccardo Ricco's expulsion and the discovery of 'interesting things' in his hotel room overshadowed the racing, in which Cadel Evans held on to the yellow jersey
Officials at the Tour de France yesterday attempted to limit the damage caused by the third and most serious doping case to hit the race after Riccardo Ricco tested positive for the banned blood-booster EPO.
Ricco, 24, won two stages before he became the third rider to test positive for the performance enhancer.
"You can't believe that a wave of a magic wand can change the world of cycling," Patrice Clerc, head of Tour organizer ASO, told a news conference. "It's going to take time."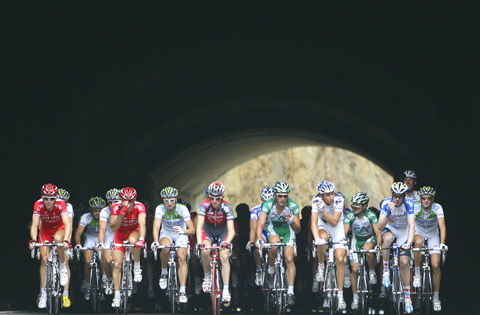 The pack passes through a tunnel during the 12th stage of the Tour de France cycling race between Lavelanet and Narbonne in southern France on Thursday.
PHOTO: AP
Ricco was expelled from the race and detained by police to the boos of onlooking fans. His Saunier Duval team pulled out of the Tour and suspended all activities.
The cyclist was held overnight, and the state prosecutor for the southwestern town of Foix, Antoine Leroy, said he would question Ricco later yesterday.
Leroy said he would ask a judge to file preliminary charges against Ricco for "use of poisonous substances," and added that "interesting things" had been found in a search of Ricco's hotel room. He did not elaborate.
"May the cheaters get caught. May they go away," Tour president Christian Prudhomme said. "I said to the riders before the race, behind closed doors, that you have the key ... Some didn't get the message."
The disclosure overshadowed the racing. The 12th stage was won by Mark Cavendish of Britain, while Cadel Evans of Australia retained the yellow jersey.
Evans said he welcomed the drugs busts.
"The sport is being cleaned up in a serious, fair and transparent way," he said. "Our sport is being crucified for doing the right thing."
"It's just amazing. It's irresponsible," said David Millar, a British rider with the Garmin-Chipotle team. "This guy does not have any love or care for the sport."
"We are learning that things that look too good to be true are too good to be true," said Millar, who rode with Saunier Duval last year, and has become a leading critic of drug use after serving a two-year doping ban.
The Saunier Duval bus was later detained by gendarmes, and its contents were inspected, the Foix prosecutor said.
Pierre Bordry, the head of the French anti-doping agency, announced Ricco's positive result just before the stage. Some of Ricco's teammates had already taken the starting line before returning to the team bus to leave.
"It's a team decision not to start the race," Saunier Duval sporting director Matxin Fernandez said. "He's our leader. We can't act as if nothing happened."
Ricco, the Giro d'Italia runner-up, won the sixth and ninth stages of this Tour and was ninth overall entering on Thursday. He was two minutes, 29 seconds behind Evans.
The case was the latest in a series of doping scandals to hit the last three Tours. Last year Alexandre Vinokourov tested positive for a blood transfusion, Cristian Moreni was caught using testosterone, and Iban Mayo — also with Saunier-Duval — tested positive for EPO, though he was later cleared by the Spanish cycling federation.
In 2006 US rider Floyd Landis was stripped of his title after using synthetic testosterone.
Ricco had come under suspicion for what he says is his naturally high hematocrit level — the volume of red blood cells. High hematocrit levels can suggest EPO use but do not confirm it.
Following his victory in the ninth stage, Ricco said he had had high hematocrit levels "ever since I was little," adding: "I hope soon that everybody will stop speaking about that."
His downfall came as judicial officials continued to question Spanish rider Moises Duenas Nevado, who was expelled from the race on Wednesday. Duenas Nevado was detained by police in Tarbes, at a hotel where his Barloworld team was staying. Police also searched his hotel room.
Gerard Aldige, the state prosecutor in Tarbes, told reporters that police found "numerous small medical materials like syringes, needles and medical drip bags, which theoretically a cyclist should not have in his room."
Aldige said Duenas Nevado, who was released on Thursday, faces preliminary criminal charges for "holding and using poisonous substances or plants" and "prohibited importing of merchandise."
They also found capsules and gels containing unknown substances.
Aldige said one medicine not authorized for sale in France was uncovered, though he did not elaborate.
Liquigas team rider Manuel Beltran, a former teammate of seven-time Tour winner Lance Armstrong, was kicked out of the Tour and sent home to Spain last Friday.
"I'm glad they got caught. The Tour needs to continue and get to the finish in Paris," International Cycling Union president Pat McQuaid said by phone. "It's another blow to the sport, but I have to see it in light of the fact that they're getting caught and going to be thrown out."
In Thursday's stage, Cavendish won his third bunch sprint of this year's Tour, after a 168.5km ride from Lavelanet to Narbonne. Evans, trailing in the main pack, led Frank Schleck of Luxembourg by one second and Christian Vande Velde of the US by 38.
Sebastien Chavanel of France was second, with Gert Steegmans of Belgium third.
Yesterday's 13th stage was a 182km ride from Narbonne to Nimes.
Comments will be moderated. Keep comments relevant to the article. Remarks containing abusive and obscene language, personal attacks of any kind or promotion will be removed and the user banned. Final decision will be at the discretion of the Taipei Times.