Mediate says pool cleaner remarks don't bother him
Rocco Mediate says he's not bothered by NBC golf analyst Johnny Miller saying he "looks like the guy who cleans Tiger's swimming pool," and "Guys with the name 'Rocco' don't get on the trophy" during the US Open.
Mediate was in Rhode Island on Monday to play in the CVS Caremark Charity Classic at the Rhode Island Country Club. He won the tournament five years ago.
Miller apologized on Friday for his description of Mediate, who was of Italian heritage. Miller said the comments had nothing to do with Mediate's ethnicity, and he meant to convey his affection and admiration for Mediate's "everyman qualities."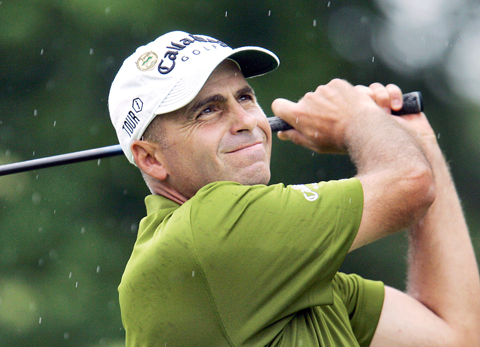 Rocco Mediate tees off on the 13th hole in the CVS Caremark Charity Classic golf tournament in Barrington, Rhode Island, on Monday. Mediate nearly staged one of golf's greatest upsets at this month's epic US Open, but went on to lose to top-ranked Tiger Woods in a 19-hole playoff on June 16.
PHOTO: AP
Mediate told WJAR-TV that Miller's comments had been blown out of proportion.
"It doesn't bother me at all," he said. "He definitely didn't do it on purpose."
He called Miller "quite a good announcer" because he says what's on his mind. He said the analyst had left him a voicemail and he planned to call him back.
Mediate, who has never won a major, was the runner-up at the US Open, losing a 19-hole playoff to Tiger Woods.
Mediate was a last-minute addition to the charity tournament, replacing Boo Weekley, who withdrew for personal reasons.
The tournament is run under a best-ball format and was to conclude last night.
Mediate and his teammate, Brandt Senedker, shot a 9-under 62 to tie for second place in the first round with three other pairs — Paul Goydos and Tim Herron, Billy Andrade and Davis Love III and Charles Howell with Nick Price.
The pair of Bubba Watson and Camilo Villegas shot a 10-under 61 to grab the first-round lead. They made the turn leading by one stroke after combining for a 6-under 30 on the front nine.
"We hit the ball well over the first few holes and it took a lot of pressure off," Watson said. "For the most part we hung in there and had chances."
Watson-Villegas birdied each of the first four holes and appeared to be in position to challenge the tournament record of 13-under 58 set in 2001 by the teams of Brad Faxon-Gary Player and Dudley Hart-Herron.
But after making birdie on the 13th, 14th and 15th holes, Watson-Villegas only could make par on each of the last three.
Laura Diaz and Nicole Castrale, the second women's team to play in the 10-year tournament, missed tying for the lead when they each missed a par putt on the 18th hole and combined for bogie.
"We got some excitement going in the crowd," Diaz said, "but I felt we left some shots out there."
Brett Quigley combined with his uncle, Champions Tour veteran Dana Quigley, to shoot 8-under 63 and made eagle on the par-5, 538-yard 11th hole by chipping in from three yards off the green.
Brett Quigley incurred a stress fracture in his left leg two weeks before the US Open. Earlier this year he had arthroscopic surgery on his right knee.
Comments will be moderated. Keep comments relevant to the article. Remarks containing abusive and obscene language, personal attacks of any kind or promotion will be removed and the user banned. Final decision will be at the discretion of the Taipei Times.