Bryant, James lead Beijing team
National Basketball Association Most Valuable Player Kobe Bryant and Cleveland Cavaliers star LeBron James were among the 12 players named to the US Olympic basketball team on Monday.
Bryant's selection will give the Los Angeles Lakers superstar a chance for Olympic gold to help soothe the disappointment of falling in the NBA finals to the Boston Celtics this month.
Bryant, a two-time NBA scoring champion, will be competing in his first Olympics. He played key role in last FIBA Americas Championship team that finished 10-0 and won the gold medal en route to an automatic qualification into the 2008 Games.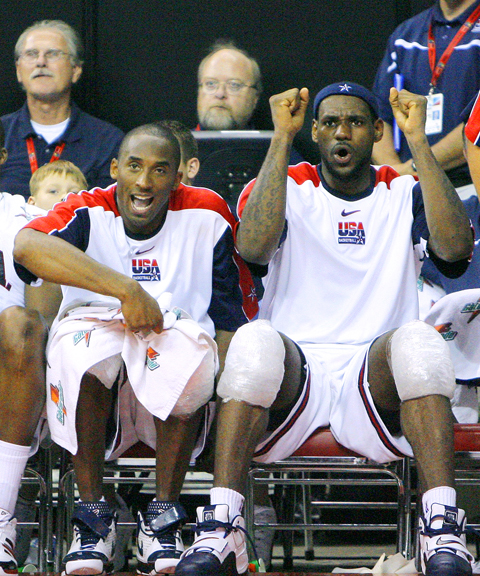 Kobe Bryant, left, and LeBron James react after their teammate Deron Williams scored against Argentina during their FIBA Americas Championship gold medal basketball game in Las Vegas on Sept. 2 last year. The two NBA superstars have been named as part of the US men's basketball team for the Beijing Olympic Games.
PHOTO: AP
Bryant will be joined by reigning NBA scoring champion James, Dwyane Wade of the Miami Heat, Carmelo Anthony of the Denver Nuggets, Utah's Carlos Boozer and Deron Williams, Toronto's Chris Bosh, Orlando's Dwight Howard, Chris Paul of New Orleans, Tayshaun Prince of Detroit, Michael Redd of Milwaukee and Jason Kidd of the Dallas Mavericks.
Kidd, 35, was a member of the 2000 US Olympic team that finished 8-0 and captured the gold medal in Sydney.
Anthony, Boozer, James and Wade were on the 2004 Olympic team that finished third in Athens — the first time a US team had failed to triumph since NBA players began competing in the Olympics in 1992.
The coach tasked with guiding the USA back to the top of the podium, Duke University coach Mike Krzyzewski, said his team was packed with talent, but warned that the gap between US professionals and their international counterparts had narrowed.
"Our team has excellent athleticism and great versatility. We have players who are experienced in the international game thanks to the last two summers' training and competitions," he said. "As we have learned, the international teams we will face in Beijing are also extremely talented and they play very well as a team ... This summer's Olympics are going to be an unbelievable competition."
The 12 players will take part in a mini-training camp in Las Vegas on June 28, and will train there from July 21 to July 24, with a tune-up game against Canada on July 25.
They will play two more warm-up games in Macau and two in Shanghai before the Games begin.
There were a few notable omissions. Phoenix Suns forward Amare Stoudemire, who has undergone two knee surgeries in the last four years, and Detroit Pistons guard Chauncey Billups recently withdrew their names from consideration.
Celtics forward Paul Pierce, Atlanta Hawks swingman Joe Johnson and Seattle SuperSonics forward Kevin Durant also were members of the 33-man senior national team but didn't make the 12-man team.
Krzyzewski said that he and Team USA managing director Jerry Colangelo had a difficult time completing the Olympic roster.
"The selections were very difficult and something we've been working toward since we initially got the senior national team together in the 2006 summer," Krzyzewski said. "Unfortunately we are limited to a roster of 12 players and we had incredible commitment for the 33 players in our senior team program."
Comments will be moderated. Keep comments relevant to the article. Remarks containing abusive and obscene language, personal attacks of any kind or promotion will be removed and the user banned. Final decision will be at the discretion of the Taipei Times.