Venus Williams hoping to get a chance to tear up
Venus Williams is already thinking about how a fifth Wimbledon title might change her.
She thinks it might even be more emotional than her first.
"I'm definitely not a crier. I'm the most happiest winner ever," she said, describing the big smile and pirouette that have followed her previous titles. "But maybe I would even cry."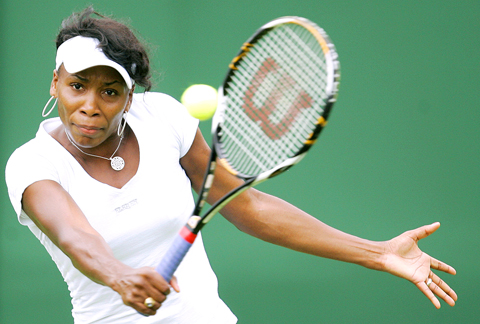 Defending champion Venus Williams is pictured in action during a practice session at Wimbledon in southwest London on Saturday.
PHOTO: AP
She flashed a smile as she pondered that celebration for a while on Sunday at a press conference for the defending champions on the eve of the tournament. Then she quickly snapped back into professional mode.
"But that's so long from now," she said. "Two weeks is a long time, especially if it rains. So my main focus is most certainly that first round."
The women's champion will start on Center Court today against Naomi Cavaday, a British wild-card entry with a No. 199 ranking.
Wimbledon 2000 was Venus' first Grand Slam title, coming off a brief clay court swing after four months out with wrist tendinitis, she beat top-ranked Martina Hingis in the quarter-finals, her sister in the semis and defending champion Lindsay Davenport in the final.
She won the US Open a few months later — replacing Serena as champion — and successfully defended both titles in 2001, giving her four wins in six majors.
Her two Grand Slam triumphs since then have been at Wimbledon, in 2005 — after a stretch of five losing finals to Serena from the 2002 French Open to Wimbledon 2003 when the Williams sisters were at the peak of their powers — and last year.
It's little wonder she likes coming back to the manicured lawn courts at the All England Club.
"I just think it's the ultimate place to play your best tennis," she said. "The most wonderful tournament to win would definitely be here. I've been blessed to do well a few times here, so that feels obviously very good. I just love it here. It's good for my game, too."
She would likely have to get past Jankovic in the quarter-finals and 2004 champion Sharapova in the semis to make another final and maybe then she would get the chance to tear up a little.
"Of course I think about that," she said. "But I know that I'm going to have to work for it. I'm willing to pay that price."
The Williams sisters have entered in the doubles at a major for the first time since 2003, hoping to add to their six Grand Slam doubles titles and maybe rehearse for the Beijing Olympics.
Being on opposite halves of the singles draw, they cannot meet until the final. And that is a good thing, as far as Venus sees it.
"I have the most respect for Serena as a player on tour. Definitely I see her as a player who can produce any shot at any time from anywhere," she said. "So I would say that obviously it would be great to meet her in the finals, but we have to work at it."
Of the other, younger contenders — 20-year-old Ana Ivanovic's name is mentioned — Venus, who turned 28 last week, is less forthcoming.
"I mean, obviously she's playing well. No particular observations," she said. "I really don't know much about the favorites or what have you going into this year. I've been really just head to the ground, just practicing and training. Ultimately the best player will win. I'm going to aim for that to be me."
Comments will be moderated. Keep comments relevant to the article. Remarks containing abusive and obscene language, personal attacks of any kind or promotion will be removed and the user banned. Final decision will be at the discretion of the Taipei Times.