MAJOR LEAGUES: Dempster wins ninth straight for Cubs
IMPRESSIVE BID At Boston, Kevin Youkilis hit a two-run home run to lift Boston over St. Louis, while Ken Griffey Jr. hit his 601st home run but didn't help the Reds win
Ryan Dempster won his ninth straight this season at Wrigley Field and Eric Patterson and Aramis Ramirez homered in the same inning for the Chicago Cubs, who beat the crosstown rival White Sox 7-1 to finish a three-game sweep on Sunday.
The Cubs, the owners of the best record in the majors (48-28), won their 14th straight home game to go 32-8 at Wrigley Field this season.
Dempster (9-2), who moved from closer back to starter this season, allowed 10 hits and a run in eight-plus innings, leaving after giving up back-to-back singles in the ninth. He walked one and struck out four.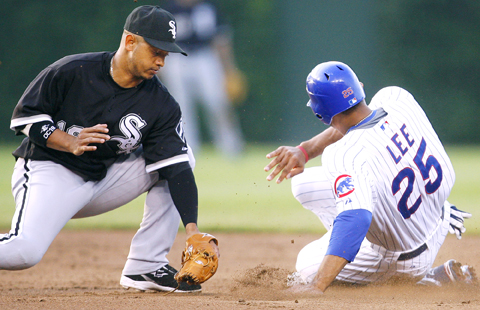 The Chicago Cubs' Derrek Lee, right, steals second as Chicago White Sox shortstop Orlando Cabrera applies a late tag during the first inning of their interleague baseball game on Sunday in Chicago.
PHOTO: AP
Braves 8, Mariners 3
At Atlanta, Mark Teixeira homered three times, connecting from both sides of the plate to lead Atlanta over Seattle.
Teixeira hit solo drives batting left-handed in the second and fourth innings, and a two-run shot from the right side in the seventh for his 13th homer of the season. It was his second career three-homer game and the first for an Atlanta player at Turner Field.
Tim Hudson (8-5) allowed four hits in seven scoreless innings to lower his ERA to 2.96 and finally win an interleague game with Atlanta.
Red Sox 5, Cardinals 3, 13 innings
At Boston, Kevin Youkilis hit a two-run home run off of Mike Parisi in the bottom of the 13th inning to lift Boston over St. Louis.
Mike Lowell led off the inning with a single off Parisi (0-3) before Youkilis hit Parisi's 3-1 offering over the left-field wall.
It was Youkilis's second homer of the game.
Angels 3, Phillies 2
At Philadelphia, Jered Weaver held Philadelphia in check into the sixth inning, Casey Kotchman homered and Los Angeles beat the Phillies to complete a three-game sweep.
Weaver (7-7) allowed one run and four hits in 5 1-3 innings for the AL West-leading Angels, who have won eight of their last nine road games and are a major league-best 24-12 on the road this season.
Yankees 4, Reds 1
At New York, Andy Pettitte put the Yankees back on track, running his shutout streak to 19 innings and helping New York avoid a three-game sweep with a victory over Cincinnati.
Ken Griffey Jr. hit his 601st home run, but the Reds are still looking for their first three-game road sweep since last July at Atlanta.
Jason Giambi had a two-run double and Robinson Cano snapped a scoreless tie with a sacrifice fly in the fifth, sending the Yankees to their 13th win in 18 games. They lost reliever Kyle Farnsworth to injury, however, when he tried to barehand Brandon Phillips' infield single in the eighth.
Royals 11, Giants 10
At Kansas City, Missouri, Mike Aviles had three RBIs and Joey Gathright drove in the go-ahead run in the seventh inning, capping an eight-run comeback that gave Kansas City a thrilling win over San Francisco.
Seven different Royals drove in runs, including a pair of RBIS from David DeJesus, as Kansas City belted out 14 hits. The comeback matched the second-best in Royals history, after a nine-run rally on June 15, 1979, at Milwaukee.
Dodgers 4, Indians 3
At Los Angeles, Russell Martin capped a four-run first inning with a two-run homer and the Dodgers beat Cleveland to avoid a three-game sweep in the first series between the teams at Chavez Ravine.
Chad Billingsley (6-7) allowed three runs and eight hits in five innings for the Dodgers, throwing 108 pitches.
Astros 3, Rays 2
At St. Petersburg, Florida, Carlos Lee hit a go-ahead two-run homer and Brandon Backe pitched into the seventh inning to stop a personal three-game losing streak, helping Houston beat Tampa Bay.
The Astros went ahead on Lee's two-out shot off Scott Kazmir (6-3) in the sixth, and Backe and the bullpen made the 3-2 lead stand up. Jose Valverde pitched the ninth for his 18th save in 22 opportunities.
Twins 5, Diamondbacks 3
At Minneapolis, Brian Buscher had two hits and drove in two runs, helping Minnesota beat struggling Brandon Webb and Arizona.
Buscher is hitting .353 with 12 RBIs and six runs scored in 10 starts since he was called up. The Twins are 7-3 in those games.
Livan Hernandez (8-4) gave up three runs, one earned, and nine hits with five strikeouts in seven innings for the Twins, who swept the Diamondbacks and have won six in a row, their longest winning streak since July 2006.
Blue Jays 8, Pirates 5
At Pittsburgh, Cito Gaston earned his first win Toronto manager in 11 years, getting home runs from Scott Rolen and Adam Lind in a victory over Pittsburgh.
Lyle Overbay and Vernon Wells had two RBIs apiece for Toronto, which avoided a sweep and the third 0-6 road trip in franchise history. Joe Inglett went 3-for-4 and Marco Scutaro scored three runs.
Gaston, who managed the Blue Jays from 1989-97 and won two World Series titles, took over again on Friday when the club fired John Gibbons.
Mets 3, Rockies 1
At Denver, Mike Pelfrey carried a shutout into the sixth inning, Carlos Beltran hit a two-run homer and New York beat Colorado to wrap up a winning road trip under interim manager Jerry Manuel.
He took over for the fired Willie Randolph after the Mets beat the Los Angeles Angels to open a six-game trip last Monday.
New York lost in Manuel's debut on the bench, but rebounded to beat the Angels and take two of three from the Rockies.
Athletics 7, Marlins 1
At Oakland, California, Justin Duchscherer is making an impressive bid for a spot in the All-Star game as Oakland trounced Florida.
Duchscherer bounced back from a first-inning home run to win his fourth straight start, Emil Brown hit a two-run single and Oakland won the rubber game against Florida.
Rangers 5, Nationals 3
At Washington, Frank Catalanotto delivered a tiebreaking, pinch-hit single in the eighth inning, and Texas beat Washington.
Vicente Padilla (10-3) gave up three runs and five hits over seven innings to win for the eighth time in nine decisions since April 27.
Brewers 7, Orioles 3
At Milwaukee, Prince Fielder hit two home runs, Corey Hart and Bill Hall also went deep and the Milwaukee beat Baltimore for its sixth win in seven games.
Manny Parra (7-2) struggled through five innings but won his fifth consecutive start.
He helped himself get out of trouble by inducing three double plays.
The Brewers used four relievers in the final four innings, with closer Salomon Torres getting the final two outs on the Orioles' fifth double play for his 12th save in 14 chances.
Tigers 5, Padres 3
At San Diego, Magglio Ordonez hit a two-run homer, Justin Verlander won his first road game of the season and Detroit beat San Diego in the rubber game of a three-game series.
Winless in six road starts this season, Verlander (4-9) improved to 8-0 in his career in interleague play.
He struck out a season-high 10 while pitching around five walks, and gave up five hits in 5 1-3 innings.
Comments will be moderated. Keep comments relevant to the article. Remarks containing abusive and obscene language, personal attacks of any kind or promotion will be removed and the user banned. Final decision will be at the discretion of the Taipei Times.