Vettori rounds on umpires after farcical finish
New Zealand captain Daniel Vettori turned his fire on the umpires after his team were denied the chance of a victory following a farcical finish to the second one-day international against England.
The Black Caps, chasing a revised target of 160 off 23 overs in a rain-affected clash at Edgbaston, were 127 for two at the end of 19 overs with Brendon McCullum, one of the world's best one-day batsmen, 60 not out.
Provided they didn't lose another wicket, they needed just seven runs off the 20th over — the minimum required to constitute a match — to win, albeit under dark skies and with rain falling, as it had done for several overs.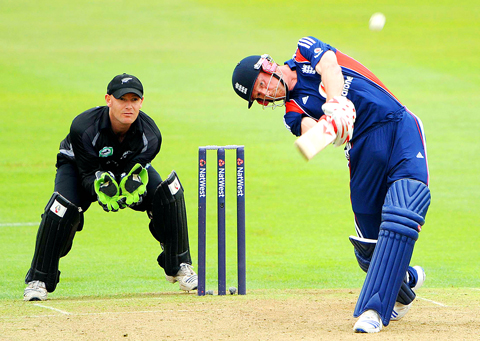 England's Paul Collingwood hits a six off the bowling of New Zealand's Daniel Vettori, not pictured, as New Zealand wicketkeeper Gareth Hopkins looks on at Edgbaston cricket ground in Birmingham, England, on Wednesday.
PHOTO: AFP
Australian umpire Steve Davis and his English on-field colleague Ian Gould then took the players off in a match already interrupted and delayed by rain.
England took a seemingly slow 83 minutes to bowl 19 overs, but Vettori said it was the umpires, not Paul Collingwood's men, who were at fault.
"You just need the umpires to take control of the game and dictate the play," Vettori said after Wednesday's "no-result," which left New Zealand still 1-0 down in the five-match series.
"There was obviously a bit of gamesmanship going on. You can't attack anyone for that, but you need constant monitoring of the over-rate," he said.
International Cricket Council match referee Javagal Srinath insisted England had not done anything to warrant disciplinary action.
"England were not in breach of the over-rate," the former India fast bowler told reporters. "They had enough allowances. There were a few referrals to the third umpire and injuries."
Vettori, whose side were beaten 2-0 in a three-Test campaign by England earlier this tour and lost last Friday's lone Twenty20 by nine wickets before suffering a 114-run thrashing in last weekend's opening one-dayer, said this result felt like a defeat.
In last year's World Cup final, eventual winners Australia and Sri Lanka were obliged to come back on in near total darkness in Barbados because several of cricket's most experienced officials forgot that 20 overs had been bowled in the second innings.
Wednesday's finish may not have been as embarrassing, but it still left a bad taste and was yet another example of cricket's unrivaled ability to avoid declaring a winner of a match.
But Davis, also speaking on behalf of Gould, defended his decisions.
"For consistency with our rulings earlier in the day, we had to come off. The two teams were struggling to stand up. The number of balls left shouldn't come into it, if that's the way the conditions are," he also told Sky Sports.
Despite rain being an ever-present threat, there was still a gap of 30 minutes between the innings when it might have been possible for the teams to turn round in 10 in a bid to "beat" the weather.
"That's the standard one-day international playing condition. We couldn't go below that," Davis said.
Comments will be moderated. Keep comments relevant to the article. Remarks containing abusive and obscene language, personal attacks of any kind or promotion will be removed and the user banned. Final decision will be at the discretion of the Taipei Times.