NBA: Epic choke leaves Lakers in huge hole
HOLLYWOOD ENDING The Lakers blew a 24-point second-quarter lead and lost 97-91 to Boston, giving the Celtics a chance to wrap up the series tomorrow
It was a Hollywood ending, just not the one the Los Angeles Lakers had in mind.
The Boston Celtics rallied from a 24-point second-quarter deficit to defeat the Lakers 97-91 on Thursday, seizing a 3-1 lead in the best-of-seven series with a chance to clinch their first crown since 1986 in Game 5 tomorrow.
"I'm happy for the win. The guys are excited. But the guys who have won titles, they said the closeout game is the hardest, so I don't want to get overjoyed," Celtics star Paul Pierce said. "Right now I'm waiting to exhale."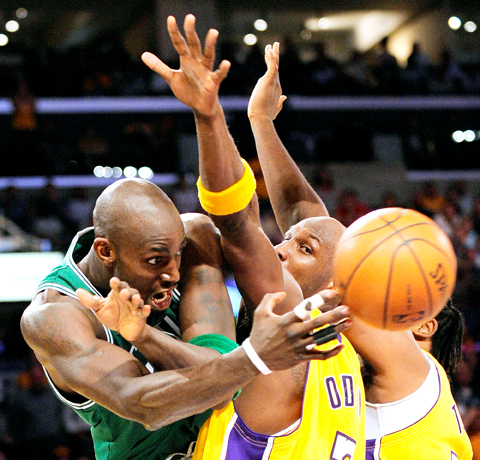 Boston Celtics forward Kevin Garnett passes around Los Angeles Lakers forward Lamar Odom, center, and Ronny Turiaf in the second half of Game 4 of the NBA basketball finals in Los Angeles, California, on Thursday.
PHOTO: AP
NBA Most Valuable Player Kobe Bryant was ready to drink away his blues.
"Whine about it tonight — a lot of wine. A lot of beer. A couple shots, maybe like 20 of them," Bryant said. "We let a huge opportunity slip away, so I'm upset, hurt, disappointed. It's a huge loss, no doubt about it."
Los Angeles native Pierce scored 20 points and shut down Bryant on defense to put the Celtics on the verge of a championship. No team has rallied to win the title after dropping three of the first NBA Finals four games.
"It could always happen," Pierce said. "We're not counting on that statistic."
Lakers coach Phil Jackson is counting his club bouncing back, but even the zen-loving mentor who has guided nine NBA title winners was low key after the staggering loss of a game Los Angeles led 70-50 with 18 minutes to play.
"They are very depressed," Jackson said. "With the kind of momentum they carried into the locker room at half-time and having a 20-point lead in the fourth quarter, it's very difficult."
Yet Jackson has faith the Lakers can avoid another collapse after the greatest NBA Finals choke since detailed records started being kept in 1971 and make history in a positive way.
"It's not over. The series is not over," Jackson said.
"These guys are resilient. They have disappointments. They come back. It's about team effort. We have to come out and play that first half like we did before. Our back is against the wall, but it's just a game at a time. That's the one thing we have to understand. We have to keep forcing the action because anything can happen in these situations," he said.
"Anything" did. The Celtics outscored Boston 21-3 to end the third quarter and ripped the Lakers down the stretch, Ray Allen breezing through the Laker defense for a clinching layup in the final seconds.
"We were really tentative at the end of the game with the ball in our hands," Lakers center Pau Gasol said. "We just didn't make things easy for ourselves."
Comments will be moderated. Keep comments relevant to the article. Remarks containing abusive and obscene language, personal attacks of any kind or promotion will be removed and the user banned. Final decision will be at the discretion of the Taipei Times.