Hernandez helps Mariners snap 4-game losing streak
MAJOR LEAGUES While Felix Hernandez helped shut out the Red Sox 8-0, Brandon Webb notched up his 11th win as the Diamondbacks downed the Pirates
Felix Hernandez held a Boston Red Sox lineup without Manny Ramirez and David Ortiz to six hits over six innings and the Seattle Mariners snapped a four-game losing streak with an 8-0 victory in the American League on Friday.
Hernandez (4-5) earned his first road victory since April 16.
Three Boston errors, two by starter Bartolo Colon, led to the Mariners' first three runs.
Boston Red Sox first baseman Kevin Youkilis, right, tries to dig out the ball on a throwing error by third baseman Mike Lowell as the Seattle Mariners' Ichiro Suzuki reaches first base safely in the third inning of their game at Fenway Park in Boston, Massachusetts, on Friday.
PHOTO: AP
Richie Sexson, Ichiro Suzuki and Jose Vidro all had two RBIs for the Mariners.
Colon (3-1) lost for the first time in his Red Sox career.
Sean Casey had three hits for the Red Sox, who had a 13-game home winning streak snapped.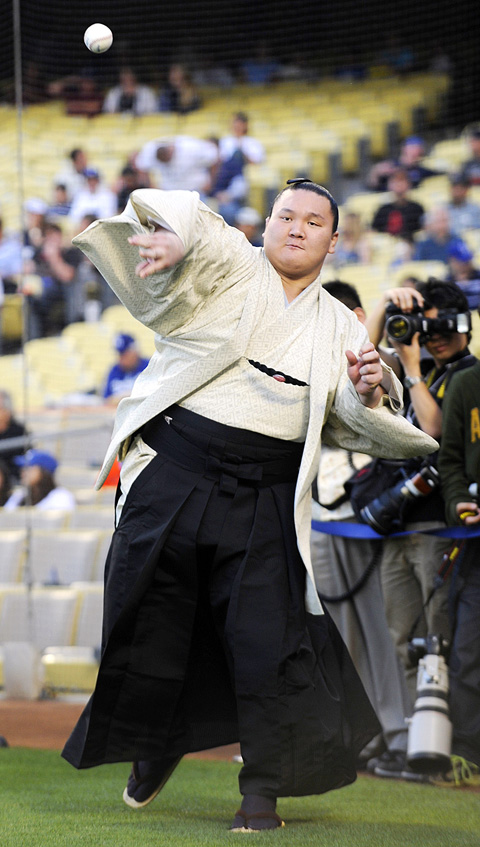 Mongolian sumo grand champion Hakuho throws a baseball before a Major League Baseball game between the Chicago Cubs and the Los Angeles Dodgers in Los Angeles on Friday as a group of touring sumo wrestlers from Japan visited Dodger Stadium.
PHOTO: AP
Indians 4, Tigers 2
At Detroit, Paul Byrd pitched seven sharp innings to earn his 100th career win and Casey Blake had a two-run double in Cleveland's three-run fourth for its 1,000th win against Detroit.
Royals 2, Yankees 1
At New York, Kyle Davies won his second consecutive start since being called up from the minors and struggling Kansas City earned a rare victory at Yankee Stadium while snapping an 11-game road skid.
Orioles 6, Blue Jays 5
At Toronto, Melvin Mora, Kevin Millar and Adam Jones all homered in Baltimore's six-run eighth inning and the Orioles beat Toronto.
Toronto right-hander Shaun Marcum blanked Baltimore through seven innings but left after Brian Roberts opened the eighth with a double.
AP, PITTSBURGH, Pennsylvania
Arizona's Brandon Webb became Major League Baseball's first 11-game winner this season, holding Pittsburgh to just one run over seven innings, and driving in a run, as the Diamondbacks beat the Pirates 3-1 in the National League on Friday.
Webb, coming off a shutout win over Washington the previous weekend, didn't allow a hit until a two-out single in the fifth. The right-hander has permitted only one extra-base hit in 16 innings over his past two starts.
Reds 11, Marlins 3
In Miami, Jay Bruce continued his sizzling start in the majors with three hits and three more RBIs as Cincinatti beat Florida.
Bruce — the Reds' first-round draft pick three years ago — went 3-for-4, and is now hitting .463 with 10 RBIs in 11 games since being called up from the minor leagues.
Johnny Cueto pitched six innings to win his third straight start for Cincinnati.
In other games it was:
• Astros 6, Cardinals 1
• Giants 10, Nationals 1
• Phillies 4, Braves 3
• Rockies 6, Brewers 4
• Padres 2, Mets 1
• Dodgers 3, Cubs 0
Comments will be moderated. Keep comments relevant to the article. Remarks containing abusive and obscene language, personal attacks of any kind or promotion will be removed and the user banned. Final decision will be at the discretion of the Taipei Times.