AMERICAN LEAGUE: Wang's winning streak is ended by the Indians
Indians left-hander Cliff Lee out-dueled New York's Wang Chien-ming to lift Cleveland to a 3-0 win over the Yankees in a battle of the undefeated pitchers on Wednesday.
Lee improved to 6-0 and the Taiwanese right-hander dropped to 6-1.
"You can't win if you don't score runs," Yankees manager Joe Girardi said after New York dropped to 17-18.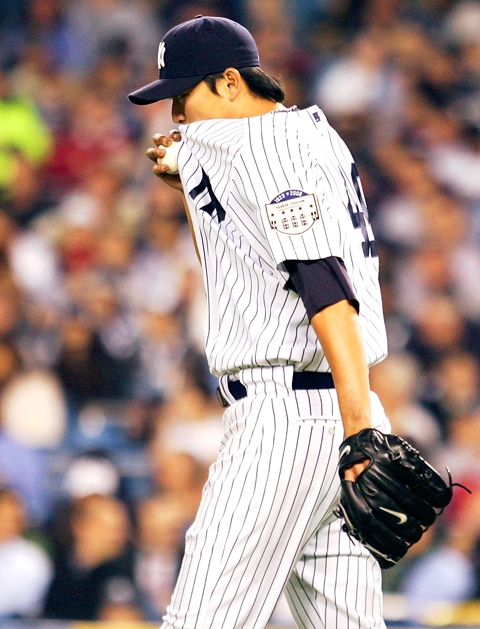 Wang Chien-ming of the New York Yankees reacts in the fifth inning against the Cleveland Indians at Yankee Stadium in New York on Wednesday.
PHOTO: AFP
Lee and Wang had similar pitching lines. The Cleveland starter went seven innings and gave up six hits. Wang worked seven innings and allowed five hits.
But Lee was sharper with his control, striking out seven without walking a single batter as he mixed his curve with a pinpoint fastball. Wang walked three and struck out four.
Lee, enjoying a brilliant turnaround season after going 5-8 last year, used precise control to extend his streak of innings pitched without a walk to 28. Lee became the first Indians pitcher to win his first six starts since Greg Swindell in 1988 and he entered the game with a tiny earned run average of 0.96 and lowered it to 0.81.
"He came right after us," Yankees shortstop and captain Derek Jeter said.
The (16-17) Indians, who beat the Yankees in the first round of last year's playoffs, scored on a Victor Martinez sacrifice fly in the first inning and added runs on RBI-singles by Casey Blake in the fourth and David Dellucci in the fifth.
"A lot of nights that's good enough," Girardi said about Wang's performance. "He gave us seven good innings. Unfortunately, we couldn't score any runs for him."
It was the second successive night the Yankees had squandered a strong pitching performance. On Tuesday, Andy Pettitte left with the lead before Dellucci's three-run pinch-hit homer off Joba Chamberlain gave Cleveland victory.
"It's frustrating because that's what you ask your pitchers to do, you ask them to give you an opportunity to win games," Girardi said. "And both nights they've done that and we haven't been able to win."
Also See: NATIONAL LEAGUE: Reds humble Chicago with 9-0 victory
Comments will be moderated. Keep comments relevant to the article. Remarks containing abusive and obscene language, personal attacks of any kind or promotion will be removed and the user banned. Final decision will be at the discretion of the Taipei Times.