NHL: Roy leads Sabres to 5-3 win over Panthers
Overshadowed after Florida Panthers forward Richard Zednik sustained a deep gash across the neck, Derek Roy scored twice to lead the Buffalo Sabres to a 5-3 win in the NHL on Sunday.
Zednik, who had blood gushing after being cut by a teammate's skate, was transported to hospital and listed in stable condition.
The Slovak was behind the play and skating into the right corner of the Sabres' zone, when teammate Olli Jokinen was upended by Sabres forward Clarke MacArthur. Jokinen fell head-first to the ice, and his right leg flew up and struck Zednik directly on the side of the neck.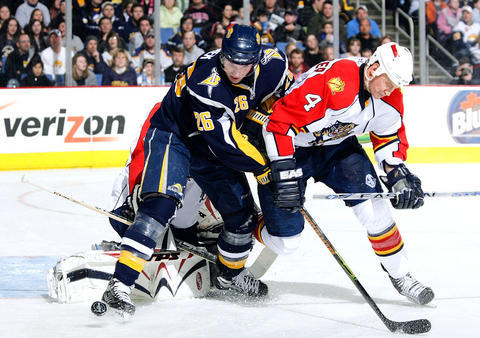 Thomas Vanek, No. 26, of the Buffalo Sabres works for position against Jay Bouwmeester, No. 4, and Craig Anderson, No. 31, of the Florida Panthers on Sunday at HSBC Arena in Buffalo, New York.
PHOTO: AFP
Buffalo's Ryan Miller stopped 22 shots in earning his 100th career win.
Capitals 3, Rangers 2, OT
At Washington, Mike Green scored a power-play goal 23 seconds into overtime, Olie Kolzig stopped 31 shots in his 700th career game and Washington regained first place in the Southeast Division with a victory over New York.
Alex Ovechkin scored his NHL-high 47th goal of the season, compared to 46 in 2006-07, and had assists on Washington's other two goals.
It was the 296th victory of Kolzig's career, tied with Ron Hextall for 23rd place on the career list.
Chris Drury and Sean Avery scored for New York, which had its four-game road winning streak ended.
Penguins 4, Flyers 3
At Pittsburgh, Evgeni Malkin scored a goal and set up three others, giving him seven points in two days, and Pittsburgh finally figured out how to beat Pennsylvania state rival Philadelphia.
The Flyers, swept in eight games by Pittsburgh last season, had four previous victories against Pittsburgh this season with Martin Biron.
Malkin assisted on goals by Petr Sykora, Sergei Gonchar and Kristopher Letang. He has 21 points, with eight goals, in 10 games since star Sidney Crosby injured his right ankle on Jan. 18.
R.J. Umberger scored twice for Philadelphia and has seven of his 11 goals this season against his hometown Penguins.
Ducks 3, Red Wings 2
At Detroit, Mathieu Schneider had a goal and an assist to lift Anaheim over Detroit.
Ryan Carter and Kent Huskins also scored for defending Stanley Cup champion Anaheim, which won its fourth straight.
Pavel Datsyuk and Johan Franzen got the goals for NHL-leading Detroit, which lost its third straight.
Wild 2, Blues 1, SO
At St. Louis, Brent Burns produced his second game-winning goal in two days, scoring in the sixth round of a shootout in Minnesota's victory over St. Louis.
Marian Gaborik scored his 29th goal for the Wild, 3-1 against the Blues this season. Neither team has scored more than three goals in any of the games.
Paul Kariya got his 14th for the slumping Blues, who have two wins in their past 13 games.
Kings 3, Blue Jackets 2, SO
At Columbus, Ohio, Patrick O'Sullivan scored the tiebreaking goal in the shootout after having a go-ahead goal waved off in the third period, and Los Angeles snapped a four-game skid against Columbus with a win.
Dan Cloutier, making his first start of the season and finishing with 31 saves, stopped Jason Chimera before O'Sullivan's chance.
Anze Kopitar scored twice for Los Angeles, the worst team in the league but on a 9-1-4 stretch.
Ron Hainsey and Rick Nash tallied power-play goals for Columbus.
Predators 6, Coyotes 3
At Glendale, Arizona, J.P. Dumont and Rich Peverley scored 23 seconds apart in the third period to lift Nashville over Phoenix.
Dumont snapped a 3-all tie when he sent a slap shot past Mikael Tellqvist at 5:36 of the final period. Dumont also had two assists for his second three-point game of the season.
Peverley scored his second of the year when he converted a pass from Radek Bonk. Martin Gelinas added an empty-net goal at 19:20 of the third period.
Canucks 3, Blackhawks 2, SO
At Vancouver, Markus Naslund tied the game with 1:18 left in regulation and Ryan Shannon scored the only goal of the shootout, lifting the hosts over Chicago.
Shannon, in just his second game since being called up from the American Hockey League, made contact with Nikolai Khabibulin as he spun back across his body and tucked the puck in, drawing complaints and a shot to the back of the head from the Chicago goalie.
Chicago trailed 1-0 going into the third period, but Patrick Sharp tied it at 5:44, and Cam Barker gave Blackhawks the lead on a strange bounce with 4:05 left.
Comments will be moderated. Keep comments relevant to the article. Remarks containing abusive and obscene language, personal attacks of any kind or promotion will be removed and the user banned. Final decision will be at the discretion of the Taipei Times.