NBA: Nuggets stomp short-handed Cavaliers
SUPERSTAR At Miami, Kobe Bryant scored 33 points to help the Lakers beat the Heat, while at Boston, Paul Pierce scored 35 points against the San Antonio Spurs
Carmelo Anthony scored 27 points, NBA All-Star sidekick Allen Iverson added 25 and the Denver Nuggets rolled over the listless and limping Cleveland Cavaliers 113-83 on Sunday.
Anthony didn't have to play in the fourth quarter and improved to 8-2 in his pro career against good friend LeBron James, who scored 30 points -- in three quarters -- but got little help from a Cleveland team missing four key players, including two starters.
Denver led by 11 points after one quarter, 18 at halftime and 26 by the end of the third. At the end of the period, James stormed off the court and didn't take part in coach Mike Brown's huddle before the fourth quarter.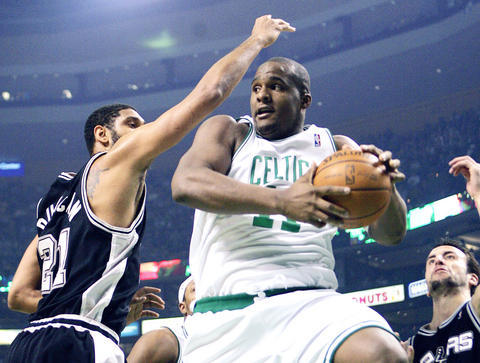 The Boston Celtics' Glen Davis, right, comes down with the rebound in front of the San Antonio Spurs' Tim Duncan in the first quarter of their NBA basketball game on Sunday in Boston.
PHOTO: AP
As he sat alone, Cavaliers guard Damon Jones yelled in James' direction. But Cleveland's superstar never acknowledged his teammate and stared straight ahead without saying a word.
Lakers 104, Heat 94
At Miami, Kobe Bryant scored 33 points, and Los Angeles used a 16-2 second-half run to pull away and beat the skidding Heat in Miami's first home game of its post-Shaquille O'Neal era.
Mark Blount finished with 22 points for Miami, which has lost seven straight and 22 of its last 23.Shawn Marion, playing his first game for the Heat since Wednesday's stunning deal that sent O'Neal to the Phoenix Suns for he and Marcus Banks, finished with 15 points and 14 rebounds.
Lamar Odom finished with 15 points and 18 rebounds for the Lakers, who've won five of seven so far on a nine-game road. Sasha Vujacic scored 13 points and Pau Gasol added 12.
Celtics 98, Spurs 90
At Boston, Paul Pierce scored 35 points, Ray Allen had 19, and Rajon Rondo had 12 assists and 11 rebounds as Boston improved to 5-2 since losing Kevin Garnett to an abdominal strain.
Tim Duncan had 22 points, 14 rebounds and six assists, and Manu Ginobili scored 21 for San Antoniol, which lost for the first time in five games.
San Antonio got within four points in the final minute, but twice Ginobili was forced to take off-balance 3s that weren't even close.
Nets 101, Mavericks 82
At East Rutherford, New Jersey, Vince Carter scored 25 of his 29 points after nearly being knocked out by an elbow to the head, and inconsistent New Jersey reeled off 21 straight points to stun Dallas.
Richard Jefferson added 19 points and Jason Kidd put aside trade rumors once again to finish with 13 points, 14 assists and six rebounds, falling four rebounds shy of his 100th career triple-double.
Dallas' All-Star forward Dirk Nowitzki was limited to 21 points, only 10 points after the first quarter.
Pistons 113, Bobcats 87
At Auburn Hills, Michigan, Tayshaun Prince scored 14 of his 21 points in the first quarter and Detroit won its eighth straight game.
Detroit led 27-7 after just nine minutes, aided by Charlotte missing 12 of their first 14 shots. Prince outscored the Bobcats by a point in the quarter, hitting four 3-pointers and adding two rebounds and two assists.
Suns 108, Wizards 107
At Phoenix, Amare Stoudemire had 31 points, including two game-clinching free throws with 7.5 seconds to play, and Phoenix handed Washington its seventh straight loss, its longest skid in nearly four years.
Antwan Jamison scored 28 points and Brendan Haywood a season-high 21 for the Wizards.
Stoudemire also had 13 rebounds and four blocked shots for the Suns, who played with their newest member Shaquille O'Neal watching from the bench in street clothes.
Raptors 105, Timberwolves 82
At Minneapolis, Andrea Bargnani scored 16 points and Jose Calderon had 15 points and 10 assists for his second consecutive double-double to help Toronto beat Minnesota.
All-Star Chris Bosh added 14 points for the Raptors.
Al Jefferson led Minnesota with 18 points.
Comments will be moderated. Keep comments relevant to the article. Remarks containing abusive and obscene language, personal attacks of any kind or promotion will be removed and the user banned. Final decision will be at the discretion of the Taipei Times.