MAJOR LEAGUES: NY Mets acquire Santana from Twins for US$137m
Johan Santana and the New York Mets agreed to a US$137.5 million, six-year contract on Friday, a record for a pitcher and the last major step needed to complete the team's blockbuster trade with the Minnesota Twins.
Mets officials met with Santana's agent, Peter Greenberg, in Manhattan for a third straight day to work on the contract for the two-time American League Cy Young Award winner, and received approval from Major League Baseball for two extra hours past the deadline to complete it.
Terms of the agreement were disclosed by an official with knowledge of the talks who spoke on condition of anonymity because no announcement had been made. The deal includes an US$18.75 million option for 2014 with a US$5.5 million buyout that could make the contract worth US$150.75 million over seven seasons.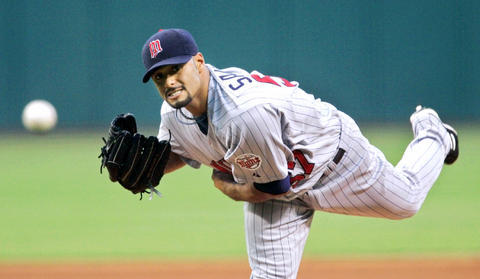 The Minnesota Twins' Johan Santana pitches to the Cleveland Indians' Grady Sizemore on Aug. 29, last year, in Cleveland, Ohio.
PHOTO: AP
Santana's contract topped the previous mark for pitchers, set when Barry Zito received a US$126 million, seven-year deal from the San Francisco Giants last offseason. Santana was due US$13.25 million in the final year of his contract with the Twins, and would have been eligible for free agency after the World Series.
The only players with larger packages are New York Yankees third baseman Alex Rodriguez (US$275 million), Yankees shortstop Derek Jeter (US$189 million), Boston Red Sox outfielder Manny Ramirez (US$160 million), and Colorado Rockies first baseman Todd Helton (US$141.5 million).
Santana's average annual salary of US$22.92 million is second only to Rodriguez's US$27.5 million. Among pitchers with multiyear contracts, it topped the US$18.3 million of the Chicago Cubs' Carlos Zambrano.
Santana is 93-44 with a 3.22 ERA in eight major league seasons, winning the AL Cy Young Award in 2004 and 2006 with the Twins. He has been less successful in the playoffs, going 1-3 with a 3.97 ERA.
The left-hander slipped a bit last year, finishing with a 15-13 record. He dropped seven of his final 11 decisions as his ERA rose from 2.60 to 3.33 ERA, his highest since 2001. He also allowed a career-high 33 homers.
"He's good but he's not unbeatable. He got hit around last year," said pitcher Tim Hudson of the Atlanta Braves, one of the Mets' chief rivals in the National League East division along with the Philadelphia Phillies.
The Twins agreed on Tuesday to swap Santana for speedy outfielder Carlos Gomez and right-handers Philip Humber, Kevin Mulvey and Deolis Guerra.
The Twins offered Santana an US$80 million, four-year extension, but he turned it down.
Comments will be moderated. Keep comments relevant to the article. Remarks containing abusive and obscene language, personal attacks of any kind or promotion will be removed and the user banned. Final decision will be at the discretion of the Taipei Times.