Eto'o record fires Cameroon through
AFRICA CUP OF NATIONS The Cameroon striker set a tournament record with his 16th career goal, two more than Ivory Coast striker Laurent Pokou's previous mark
Samuel Eto'o became the all-time record goalscorer at the Africa Cup of Nations on Wednesday when he fired Cameroon into the quarter-finals, where Egypt will also feature despite Zambia holding the defending champions to a 1-1 draw.
Eto'o's first-half penalty and end-of-time second sandwiched between defender Mohamed Khiber's own goal fired Cameroon to a 3-0 win over Sudan to bag the Group C runners-up spot on six points.
Over in Kumasi, where the attendance figure barely touched 5,000, Egypt were held by Zambia with a point sufficient to make them the group leaders.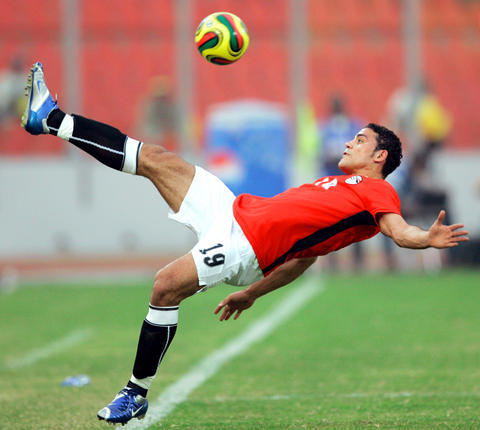 Egypt's Amr Zaky keeps the ball in play during Egypt's Africa Cup of Nations match against Zambia in Kumasi, Ghana, on Wednesday. The match ended in a 1-1 draw.
PHOTO: AP
Egypt are in a quest here for a record sixth title.
The Pharaohs and the handful of fans had to contend with a smoky stadium as sawdust bonfires were lit outside in a local tradition to ward off mosquitoes, flouting local authority laws.
Wednesday's quarter-final new recruits join already qualified Ivory Coast, hosts Ghana, Guinea and Nigeria.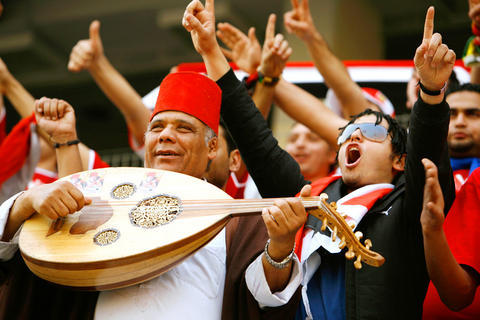 Egypt supporters cheer ahead of the start of their Africa Cup of Nations soccer match against Zambia in Kumasi, Ghana, on Wednesday.
PHOTO: AP
Wednesday's two losing sides, Sudan and Zambia, joined Morocco, Benin, Mali and Namibia on the opening-round scrap heap.
The 10th day of the biennial competition undoubtedly belonged to Eto'o. The Barcelona striker was level on 14 goals with Laurent Pokou of Ivory Coast entering the final-round fixture, and took just 27 minutes to create history at Tamale Stadium before adding a second in stoppage time.
The three-time African Player of the Year celebrated reaching the milestone with extreme calm, returning to the center circle while accepting the congratulations of team-mates approaching him one at a time.
?
Eto'o struck his first Nations Cup goal in a 2000 group match against Ivory Coast in Accra and his tally includes one hat-trick, against Angola in Cairo two years ago.
Eto'o helped the "Indomitable Lions" win the symbol of African national team supremacy in 2000 and 2002 and this is his fifth appearance at the biennial tournament.
Cameroon coach Otto Pfister later complained of some hitches in the local organization, claiming the team -- having already lost its baggage -- had to wait two hours for their hotel rooms to be ready, and then wait for their meals.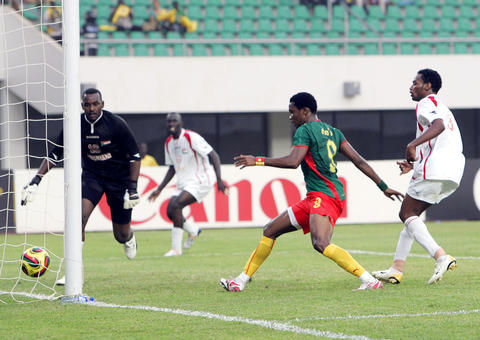 Cameroon forward Samuel Eto'o, second right, scores his second goal against Sudan during their 2008 Africa Cup of Nations match in Tamale, Ghana, on Wednesday.
PHOTO: AFP
It meant Cameroon failed to train as they had planned for their final group fixture.
But in the end, Pfister was walking proud after reminding everyone of his side's goalscoring record so far.
"Even after everything that happened to us, we're still the only team to have scored 10 goals. And we've got the tournament's all-time record goalscorer," said Pfister, who had special praise for his star striker.
"He [Eto'o] played his usual match, but in two or three moves he showed that he is truly world class. Our first aim was to qualify for the quarter-finals. Now, we will be fully focussed on the next round," Pfister said. "In this tournament no one is unbeatable. That's why we have to keep to our game plan. The team that keeps its concentration most is the team that will be champion."
In the other game being played simultaneously, Amr Zaky netted Egypt's goal after quarter of an hour while hard-working Zambia skipper Christopher Katongo drew his team level on 87 minutes when he shot from inside the box.
Egypt assistant coach Shawki Gharib said his team achieved their targets for this game.
"We first wanted to qualify and lead our group. We also wanted to finish the game free of any injuries and we achieved all our targets," Gharib said. "We are therefore satisfied with the result."
"Egypt played well against Sudan and Cameroon but today we gave them a good run for this draw," Zambia coach Patrick Phiri said.
"This was the Zambia that trained in Spain and played against Morocco before the tournament. It was a disaster for us against Cameroon but after this match we can go back home with some sense of satisfaction," he said.
Comments will be moderated. Keep comments relevant to the article. Remarks containing abusive and obscene language, personal attacks of any kind or promotion will be removed and the user banned. Final decision will be at the discretion of the Taipei Times.