NBA: Cavaliers continue slump against Philadelphia 76ers
Andre Miller and Andre Iguodala scored 20 points apiece to lead the Philadelphia 76ers over the slumping Cleveland Cavaliers 92-86 in the NBA on Saturday.
After Damon Jones' 3-pointer gave the Cavaliers a 75-74 lead with 7:57 to play, four points by Iguodala, including a 3, and baskets by Miller and Samuel Dalembert provided an 8-0 run that gave Philadelphia the lead for good. Iguolada later added a key three-point play.
LeBron James, the NBA's leading scorer, and Drew Gooden led Cleveland with 21 points apiece. The Cavaliers have lost eight of nine.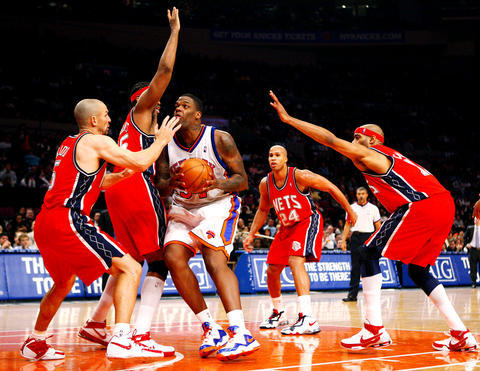 The New York Knicks' Eddy Curry, center, drives the lane against New Jersey Nets' Jason Kidd, Sean Williams, Richard Jefferson and Vince Carter, from left, during their NBA basketball game on Saturday at Madison Square Garden in New York.
PHOTO: AP
Knicks 94, Nets 86
At New York, Eddy Curry scored 23 points, a night after hitting rock bottom during a scoring slump, and New York snapped a five-game losing streak.
Jamal Crawford led New York with 32 points, and Zach Randolph added 20 points and 13 rebounds.
Vince Carter scored 32 points for New Jersey, which lost for the fifth time in six games. The Nets are 0-2 against the Knicks this season and fell to 19-3 against New York in the regular season with Jason Kidd in the lineup.
Grizzlies 123, Magic 119
At Orlando, Rudy Gay scored a career-high 32 points and Juan Carlos Navarro added 25 to help Memphis snap a six-game losing streak.
Mike Miller scored 19 points for the Grizzlies, who hit 12 3-pointers, including two clutch ones from Navarro in the final 3 minutes.
Dwight Howard had 31 points and 20 rebounds for Orlando, which last at home for the third straight time. Hedo Turkoglu added 24 points and Jameer Nelson 18 for the Magic, who couldn't protect a nine-point second half lead.
Wizards 92, Kings 79
At Washington, DeShawn Stevenson had 19 points, including five 3-pointers, to lead Washington.
Rookie Nick Young made his first NBA start, but he was pulled after 5 minutes in favor of Roger Mason, who scored 13 points -- 10 in the first half -- to help the Wizards win their fourth straight.
Brendan Haywood had 17 points and 11 rebounds for Washington and Antawn Jamison had 16.
Pacers 106, Heat 103
At Miami, Jamaal Tinsley scored 26 points, Jermaine O'Neal started a crucial fourth-quarter run with three straight baskets and Indiana extended its dominance of Miami.
Hawks 93, Bobcats 84
At Atlanta, Joe Johnson scored 31 points, Marvin Williams had 20 and Atlanta handed Charlotte its eighth road loss in nine games.
Josh Smith had 17 points and 10 rebounds and Anthony Johnson added 11 for Atlanta, which ended a two-game losing streak.
Gerald Wallace led Charlotte with 24 points. Raymond Felton had 15. Emeka Okafor had 14 points and 14 rebounds and Jason Richardson had 11.
In other games it was:
* Hornets 101, Suns 98
* Mavericks 96, Rockets 83
* Spurs 102, Nuggets 91
* Bucks 95 Timberwolves 92
* Jazz 96, SuperSonics 75
Comments will be moderated. Keep comments relevant to the article. Remarks containing abusive and obscene language, personal attacks of any kind or promotion will be removed and the user banned. Final decision will be at the discretion of the Taipei Times.