Pettitte says he used hormone
'TWO DAYS' Andy Pettitte started his major league career in 1995 and won four World Series titles with New York but was recently named in a doping investigation
Andy Pettitte used human growth hormone (HGH) to recover from an elbow injury in 2002, the New York Yankees pitcher said two days after he was cited in the Mitchell Report.
Pettitte said he tried HGH on two occasions.
"If what I did was an error in judgment on my part, I apologize," Pettitte said in a statement released by his agent on Saturday. "I accept responsibility for those two days."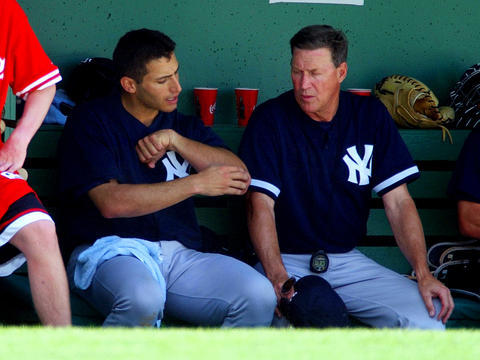 New York Yankees starting pitcher Andy Pettitte, left, confers with pitching coach Mel Stottlemyre in the dugout during a baseball game against the Philadelphia Phillies on March 25, 2002, after appearing in his first game since March 3 because of a strained left elbow.
PHOTO: AP
On Thursday, Pettitte was among 85 players named by former senator George Mitchell's investigation into steroids and performance-enhancing drugs in Major League Baseball.
Pettitte asked the trainer he shared with fellow pitcher Roger Clemens, Brian McNamee, to help him with HGH while on the disabled list early in the season, the report said. McNamee recalled injecting Pettitte two to four times, Mitchell said.
HGH wasn't banned by MLB until January 2005.
"In 2002 I was injured. I had heard that human growth hormone could promote faster healing for my elbow," Pettitte said in the statement released by agent Randy Hendricks.
"I felt an obligation to get back to my team as soon as possible. For this reason, and only this reason, for two days I tried human growth hormone. Though it was not against baseball rules, I was not comfortable with what I was doing, so I stopped," he said.
"This is it -- two days out of my life; two days out of my entire career, when I was injured and on the disabled list," he said. "I wasn't looking for an edge. I was looking to heal."
Pettitte was not linked to steroids in the report, and he emphasized he had never used them.
"I have the utmost respect for baseball and have always tried to live my life in a way that would be honorable," he said. "If I have let down people that care about me, I am sorry, but I hope that you will listen to me carefully and understand that two days of perhaps bad judgment should not ruin a lifetime of hard work and dedication."
"I have tried to do things the right way my entire life, and, again, ask that you put those two days in the proper context. People that know me will know that what I say is true," he said.
"We support his coming forward," the Yankees said in a statement.
The 35-year-old lefty is 201-113 lifetime. He started his major league career in 1995 and won four World Series championships with the Yankees.
He pitched for his hometown Houston Astros from 2004 to last year and helped them reach their first World Series.
Pettitte returned to the Yankees last season and went 15-9.
Comments will be moderated. Keep comments relevant to the article. Remarks containing abusive and obscene language, personal attacks of any kind or promotion will be removed and the user banned. Final decision will be at the discretion of the Taipei Times.