Reds, Celtic suffer worrying setbacks
FRUSTRATION Although Liverpool remain winless after three games, manager Rafael Benitez is confident that the Reds can still make it to the knockout stages
Former British European Cup winners Liverpool and Celtic suffered another blow to staying in the competition after both lost in the latest round of Champions League matches on Wednesday.
Liverpool have just one point after three matches, having gone down 2-1 to Besiktas in Istanbul -- the scene of their epic win in 2005 over AC Milan -- while Celtic have three points following a 1-0 reverse away to Benfica.
Other former winners enjoyed better fortunes as AC Milan showed some return to form in beating Shakthar Donetsk 4-1 to go top of their group while Real Madrid also scored four in downing Greek side Olympiakos.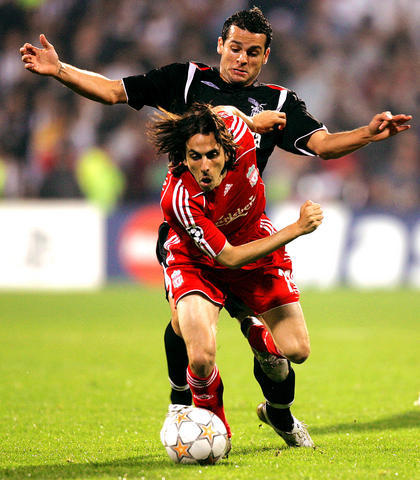 Liverpool's Israeli midfielder Yossi Benayoun, front, vies for the ball with Besiktas' Ali Tandogan in their Champions League soccer match at Inonu Stadium in Istanbul, Turkey, on Wednesday. Besiktas won 2-1.
PHOTO: AP
Chelsea's search for a first ever European Cup title also stayed in healthy condition after a 2-0 win at home to German outfit Schalke 04, with Didier Drogba showing little sign of his despair at Jose Mourinho leaving the club as he netted their second.
Schalke's German rivals Werder Bremen stayed in the hunt with a 2-1 home win over Italian side Lazio, while Marseille and Porto, the side which Mourinho had coached to Champions League glory in 2004, stayed ahead of Liverpool with a 1-1 draw in France.
Liverpool may have gone down to Besiktas, but there was still an upbeat feeling in the team camp from both manager Rafael Benitez and captain Steven Gerrard.
"We can still make it with 10 points," said Benitez, who had seen off Besiktas when coach of Valencia on their way to UEFA Cup glory prior to taking over at the English club.
"We had a lot of shots on target and just didn't manage to put them away. However, the fans will understand if they saw the match that we were unlucky," Benitez said.
Gerrard was also optimistic.
"It was frustrating but sometimes that happens. However, I am still confident we can turn it around and make the knockout stages," Gerrard said.
Celtic manager Gordon Strachan was gutted by the manner of his side's latest Champions League defeat on the road and admitted he thought they were going to hang on for the draw against Benfica.
"Sometimes football can be nasty and I thought tonight we were going to hang on and get the point," Strachan said. "When the player hit the post I thought to myself that it was going to be our night but it wasn't to be. We had a couple of chances -- although they had better ones -- but on a really good night we could have had a really good result."
While Strachan was left frustrated, there were opposite emotions from Real Madrid handler Bernd Schuster as he saw his club not only take a big step toward the second round but also that the faith he had shown in Brazilian star Robinho repaid as the striker -- who had returned late from last week's World Cup qualifier over Ecuador after some apparent over-zealous celebrations -- scored twice against Olympiakos.
"He's [Robinho] a player who knows how to win games," Schuster said. "I'm not going to go back to the other subject. He started hesitantly but after he got his first goal, he was outstanding, playing with much more confidence."
For AC Milan there was sheer relief that they managed to beat Shakthar Donetsk after a rocky start to their Serie A campaign, and it was clear from Dutch midfielder Clarence Seedorf, who scored two of their goals, how much it meant.
"This evening the fact that we were able to finish off our victory meant a lot," the veteran said.
"There was a fair amount of relief out there after the tension of the last few days. However, we know that in Europe, the game is not played in the same way as it is in Italy, but that cannot be an alibi for us," Seedorf said.
Benitez will also realize that when judgement day comes on Liverpool's European campaign he cannot rely on an alibi of being unlucky.
Comments will be moderated. Keep comments relevant to the article. Remarks containing abusive and obscene language, personal attacks of any kind or promotion will be removed and the user banned. Final decision will be at the discretion of the Taipei Times.