Nalbandian wins Madrid title
DAVID AND GOLIATH The Argentine came good, after losing eight of his last nine matches with Roger Federer, to win his first title since May last year
David Nalbandian beat Roger Federer 1-6, 6-3, 6-3 to win his first title in nearly 18 months with victory on Sunday at the Madrid Masters.
The Argentine who is ranked 25th in the world after going it alone a year before taking on Hernan Gumy as his coach over the summer, becomes only the third man in 14 years to beat the world numbers one, two and three at the same event.
Boris Becker was the first in Stockholm, 1994, while Serb Novak Djokivic, Nalbandian's Madrid semi-final victim, did it in August.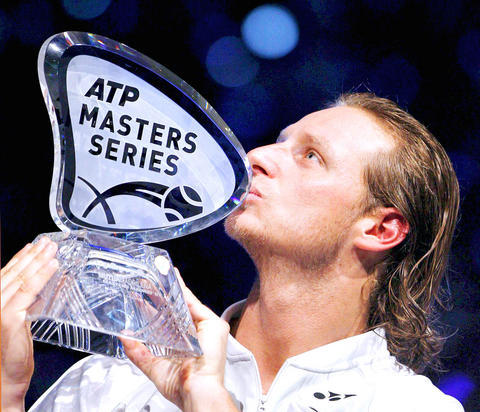 Argentine tennis player David Nalbandian kisses the trophy after defeating Roger Federer on Sunday in the final of the Madrid Masters Series Tournament played at the Telefonica Arena in Madrid.
PHOTO: EPA
Nalbandian achieved his piece of history with Madrid wins over Federer, Rafael Nadal and Djokovic.
"I'm extremely contented to beat the world No. 1," said an overjoyed Nalbandian, who climbed into the stands to greet his box in victory and later on sprayed champagne during the trophy ceremony.
"Roger and I have a long history and I think that influenced the match," he said.
Nightmare
After dominating in their early days Nalbandian rose up again in 1 hour 48 minutes to prove that he can be the the Swiss player's worst nightmare.
The South American won their first five ATP encounters before Federer swept eight of their most recent nine.
The one the Swiss lost: the 2005 Masters Cup final in Shanghai.
"He served well, I was quite surprised with how well he served," said Federer, whose last loss indoors came against the Argentine in Shanghai.
"He came back strong and played well in the end," Federer said.
"He was a better player all in all. I was struggling after the first set to play aggressive for some reason. He played tough and didn't miss any more," he said.
"I couldn't play way I wanted to. It was a pity, he played a great tournament," Federer said.
Nalbandian last won a title in May last year, on clay in Estoril, Portugal.
He lost the Madrid final in 2004 to Marat Safin.
Federer had been bidding for his 15th career Masters Cup shield.
Even an unusual second-set interruption caused by the rogue leak of a watering system hose used for courtside flowers could not derail Nalbandian's concentration.
Federer and his opponent were forced to stop in the fourth game for five minutes, with the Swiss ace 30-0 up, while the problem was fixed.
winning streak ends
Federer saw the end of a 17-match winning streak dating to the final of Montreal in August when he lost to Djokovic.
Federer swept up the first set in only 29 minutes but then began to fade in the face of the Nalbandian attack.
"It was an extremely hard set," said Nalbandian of the opener. "But I tightened the teeth and I began to play more strongly."
"Things came out fine. Today I played incredible, and of course that helps," he said.
Comments will be moderated. Keep comments relevant to the article. Remarks containing abusive and obscene language, personal attacks of any kind or promotion will be removed and the user banned. Final decision will be at the discretion of the Taipei Times.