Rockies sweep National League Series
CHARMED A Colorado squad that does not seem capable of losing has eight days to prepare before facing either Cleveland or Boston in the World Series
Colorado is heading to its first World Series.
With their 21st win in 22 games, the Rockies beat the Arizona Diamondbacks 6-4 on Monday night to sweep the National League Championship Series.
Matt Holliday's three-run, 138m shot into the pine-filled rock pile in center field capped a six-run outburst in the fourth inning, and the wild-card Rockies were on their way.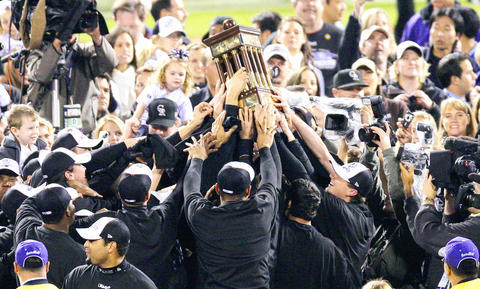 The Colorado Rockies celebrate with the National League championship trophy after winning Game 4 of the National League Championship Series against the Arizona Diamondbacks 6-4 in Denver, Colorado, on Monday.
PHOTO: AP
They have a record eight days' rest before opening the World Series at either Cleveland or Boston next Wednesday. The Indians lead the AL Championship Series 2-1.
"It was fun, this has been a great ride. We're not done yet," Rockies first baseman Todd Helton said. "We're going to keep it going."
The Rockies joined the 1976 Big Red Machine as the only teams to start a postseason with seven straight wins. Colorado has won 10 in row overall and lost only once since Sept. 16.
Just one strike from postseason elimination on the final weekend of the season, the Rockies have become a charmed team that seemingly cannot lose. This marked the sixth straight year that a wild-card club reached the World Series.
Colorado had never won more than 83 games before going 90-73 this season and sneaking into the playoffs with a 9-8, 13-inning win over San Diego in the wild-card tiebreaker. After sweeping Philadelphia in the first round of the playoffs, the Rockies put a purple pummeling on a D-backs club that led the league with 90 victories.
Ahead 6-1, the Rockies withstood Chris Snyder's three-run homer in the eighth. Chris Young doubled with one out in the ninth off closer Manny Corpas, but Stephen Drew popped out on a 3-0 pitch.
Eric Byrnes followed with a checked-swing grounder that shortstop Troy Tulowitzki charged. His throw beat Byrnes' headfirst dive, and Helton threw his arms in the air.
The Rockies are the first team since the 1935 Chicago Cubs to win at least 21 of 22 after Sept. 1, Elias Sports Bureau records show.
Reliever Matt Herges, who resurrected his career in Colorado this summer, pitched two hitless innings for the win, and the Rockies' stellar bullpen closed it out -- but not before Brian Fuentes surrendered Snyder's homer.
Jake Westbrook, an often overlooked third wheel in the Cleveland rotation, kept Boston grounded for nearly seven innings on Monday night, leading the Indians to a 4-2 win over the Red Sox and a 2-1 lead in the AL Championship Series (ALCS).
Backed by an early homer from old pro Kenny Lofton, Westbrook took a shutout into the seventh inning.
Boston grounded into three double plays, two of them by October's scariest twosome -- David Ortiz and Manny Ramirez.
In all, Westbrook got 14 of 19 outs on balls the Red Sox pounded weakly into the manicured grass and infield dirt at Jacobs Field, which hosted its first ALCS game since 1998.
The Red Sox couldn't get anything going until the seventh, when Jason Varitek hit a two-run homer.
Jensen Lewis relieved with a runner on and struck out rookie Dustin Pedroia to end the inning. Rafael Betancourt worked a perfect eighth and Joe Borowski, the AL saves leader, pitched a rare 1-2-3 ninth.
Lofton, with a baseball passport stamped by 11 teams over 17 seasons, handed Westbrook an early lead with a two-run homer in the second inning off Daisuke Matsuzaka. Cleveland added two more runs in the fifth.
Westbrook was in complete control until J.D. Drew grounded a one-out single to center in the seventh. Varitek followed with a homer to center, making it 4-2.
The homer ended Boston's 13-inning scoreless streak, a drought that began in the sixth inning of Game 2 on Saturday night.
Westbrook struck out Coco Crisp but when Julio Lugo beat out an infield single, manager Eric Wedge pulled his gutty starter, who received a thunderous ovation from the towel-waving crowd of 44,402 as he jogged to the dugout.
The Red Sox ran themselves out of a potential scoring opportunity in the fourth.
Ortiz ended an 0-for-8 drought vs. Westbrook with an opposite-field double off the wall in left, but then was struck on the leg when he inexplicably broke for third on a hard-hit grounder to shortstop by Ramirez.
In the second inning, Boston loaded the bases on a walk, single and error by first baseman Ryan Garko, a former catcher who botched an easy grounder. But Westbrook got Varitek to fly to left and then escaped trouble by getting Crisp to hit into an inning-ending double play.
Boston is appearing in its third championship series in five years.
Comments will be moderated. Keep comments relevant to the article. Remarks containing abusive and obscene language, personal attacks of any kind or promotion will be removed and the user banned. Final decision will be at the discretion of the Taipei Times.