Diaz beats Diaz to add IBF belt to list of lightweight titles
US fighter Juan Diaz added the IBF championship to his WBA and WBO lightweight titles when his unification fight with fellow Mexican-American Julio Diaz ended a second into the ninth round on Saturday.
The bout ended just as the bell to start the round rang. Julio Diaz's brother, Joel, a cornerman, told the referee to stop it, bringing a fight that Juan Diaz had dominated to a sudden conclusion.
Now, the only belt missing is the WBC title that belongs to David Diaz.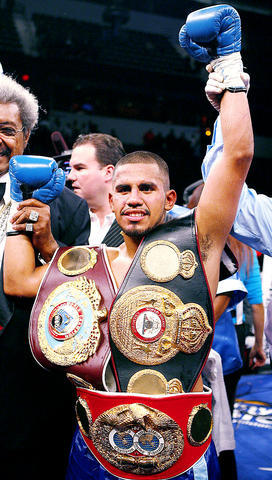 Juan Diaz celebrates after his victory over Julio Diaz on Saturday in Hoffman Estates, Illinois.
PHOTO: AP
Juan Diaz put together several solid combinations in the opening round and kept it going in the second. He landed a combo to the face with about a minute left, added a solid right and finished the round with another flurry.
Juan Diaz landed more combos to the head in the third, but his opponent remained standing which was no surprise. Juan Diaz only had 16 knockouts entering the fight.
That pattern continued throughout the fight. Juan Diaz would land a flurry, the crowd would roar and Julio Diaz (34-4) would remain standing.
By the end of the seventh round, Julio Diaz's left eye was swollen and he lasted one more round.
Judge Bill Lerch had Juan Diaz leading 77-75, but the other two weren't as close. Ted Gimza scored it 78-74 and Nelson Vazquez had it 79-73.
So what's next for Juan Diaz?
"We want [Manny] Pacquiao." promoter Don King said.
That hinges on whether Pacquiao moves up to 135lbs (61kg), and if he does, he might fight David Diaz instead.
Comments will be moderated. Keep comments relevant to the article. Remarks containing abusive and obscene language, personal attacks of any kind or promotion will be removed and the user banned. Final decision will be at the discretion of the Taipei Times.