Senators claim sixth win of season
Dany Heatley and a surging Ottawa took care of the New York Rangers in record-setting time.
Heatley scored the first of Ottawa's three goals in 52 seconds during the middle period on Saturday night to lift the Senators to a 3-1 victory over the Rangers.
Chris Phillips and Patrick Eaves followed Heatley by scoring in an overpowering minute for the Senators, who won for the sixth time in seven games this season -- including two victories over the Rangers in a week.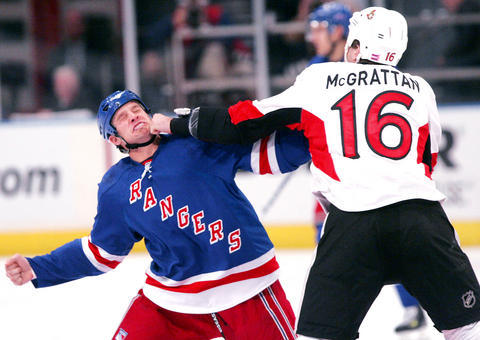 The Ottawa Senators Brian McGrattan, right, punches the New York Rangers Colton Orr during their game in New York on Saturday.
PHOTO: AP
Sabres 7, Capitals 3
In Buffalo, New York, Derek Roy and Jaroslav Spacek scored two goals each as Buffalo beat Washington.
Maxim Afinogenov added a goal and an assist, and Jason Pominville and Adam Mair also scored for the Sabres, who have won two straight after dropping their first two games of the season.
Mike Green and Michael Nylander each had a goal and an assist, and Alex Ovechkin also scored for Washington, which lost its second straight after opening the season 3-0.
Hurricanes 3, Canadiens 1
In Montreal, Cory Stillman and Matt Cullen scored as Carolina spoiled Montreal's home opener.
Montreal's Chris Higgins scored his first goal of the season 1:12 in to kick off the Canadiens' 98th home opener.
Panthers 6, Lightning 4,
In Sunrise, Florida, Olli Jokinen had a goal and two assists to tie Scott Mellanby for Florida's career scoring lead in the Panthers' victory over Tampa Bay.
Jokinen has 156 goals and 198 assists for 354 points.
Nathan Horton, Ruslan Salei, Stephen Weiss, Richard Zednik and Jozef Stumpel also scored for the Panthers, who handed Tampa Bay its first loss of the season.
Flyers 3, Islanders 1
In Philadelphia, Jeff Carter and Sami Kapanen each scored goals, and Martin Biron made 29 saves to lead Philadelphia over the New York Islanders.
Jason Smith scored an empty-net goal for the Flyers with seconds left in the game.
Josef Vasicek scored on a slapshot from the circle for the Islanders to make it 2-1.
In other NHL action on Saturday it was:
* Devils 6, Thrashers 5
* Penguins 6, Maple Leafs 4
*Flames 7, Predators 4
* Blackhawks 2, Stars 1, OT
* Avalanche 5, Blue Jackets 1
* Wild 3, Coyotes 2
* Canucks 4, Oilers 1
* Bruins 2, Sharks 1
Comments will be moderated. Keep comments relevant to the article. Remarks containing abusive and obscene language, personal attacks of any kind or promotion will be removed and the user banned. Final decision will be at the discretion of the Taipei Times.