Hamilton claims pole in Shanghai
`ROLLERCOASTER' The British racer, who has been cleared of wrongdoing in the Japanese GP, is hoping Typhoon Krosa will help him shake his pursuers today
Lewis Hamilton, with a chance to clinch the drivers' championship in his rookie season, took pole position yesterday for the Chinese Grand Prix, with title rival and McLaren teammate Fernando Alonso qualifying fourth.
Kimi Raikkonen, who led all three practice sessions before qualifying, was second, with his Ferrari teammate Felipe Massa third.
"We are in the best position to start the race," Hamilton said.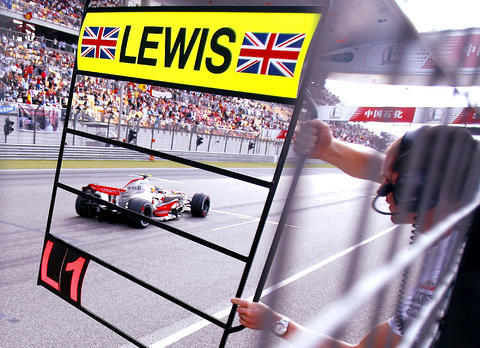 Britain's Lewis Hamilton is on his way to taking pole position in qualifying for the Formula One Chinese Grand Prix at Shanghai International Circuit yesterday.
PHOTO: AP
"I feel very optimistic about it. We have a good car. I know the team will do a great job. I approach tomorrow the same as every race. I want to win, I want to do a good job for the team and if I do that it might be a good day for us. Fingers crossed," he said.
Hamilton had a time of one minute, 35.908 seconds on the 5.5km Shanghai International circuit, and barely 0.6 seconds separated the top four. Raikkonen did a 1:36.044, with Massa at 1:36.221. Two-time defending champion Alonso was fourth at 1:36.576 ahead of today's 56-lap race.
It will be the sixth time Hamilton has started from pole -- in Hungary he did so after Alonso won pole in qualifying but was demoted as punishment for hampering Hamilton in a pitstop. In four of his previous five pole starts, Hamilton won the race, with the only blemish being in the British GP, when he ran third.
Hamilton performed strongly yesterday despite enduring a stewards investigation on Friday about his driving in last weekend's Japanese GP. He was cleared of wrongdoing.
"This weekend has been bit of a rollercoaster and quite emotional trip," Hamilton said. "I got here on Thursday and found out they were to investigate me for the way I was behaving behind the safety car. I thought immediately I would get a penalty."
"Thankfully with team support we pulled through it," he said. "A good decision by the FIA."
Hamilton turned around his performance from practice, when Alonso looked the quicker of the two McLarens.
"I kept chipping away at it and I am absolutely thrilled to get the pole position, because going into qualifying I didn't have the pace of Fernando," Hamilton said.
He heads into today's race with 107 points, a 12-point lead over Alonso. Hamilton will become the first rookie to clinch the title if he finishes ahead of Alonso, or maintains at least an 11-point margin with only one race to go.
Alonso was surprised he did not finish closer to Hamilton.
"When I crossed the line with the first set of tires, I was very, very happy with the lap and I asked what are the positions at the moment. They told me fourth and I was surprised," Alonso said.
"Then we put on the soft tires. I improved another two-tenths and the lap was extremely good again and the car balance was very good. I expected to be fighting for the pole or a very good position and then I realized I was still in fourth and even a bigger gap to pole position," he said.
The good news for Hamilton's pursuers is that weather, rather than grid positions, may be the key to today's race.
Storms are predicted over the weekend, with Typhoon Krosa smashing into Taiwan yesterday. If it stays on its current path, the eye of the storm was expected to strike land about 300 km south of Shanghai late today, bringing strong winds and heavy rain.
"I am not bothered by whether it would be wet or drying," Hamilton said. "The experience in Fuji [gave] me a lot of confidence in the wet."
Late on Friday Hamilton was cleared by the International Automobile Federation (FIA) after a hearing and review of an incident in the Japanese Grand Prix.
Hamilton was accused of accelerating and decelerating behind the safety car during a caution period on the 46th lap, spraying water from a wet track and causing Webber and Toro Rosso's Sebastian Vettel to collide.
Comments will be moderated. Keep comments relevant to the article. Remarks containing abusive and obscene language, personal attacks of any kind or promotion will be removed and the user banned. Final decision will be at the discretion of the Taipei Times.