Pittsburgh fires manager Jim Tracy after two years
Jim Tracy was fired as manager of the Pittsburgh Pirates on Friday after two seasons filled with long losing streaks and little discernible progress.
Tracy's back-patting and patience weren't enough to turn the Pirates around. He produced records of 67-95 last year and 68-94 this season, the shortest run of any non-interim Pirates manager since Bill Virdon was fired late into his second season in 1973.
Tracy's departure means the Pirates will have new front office and on-field leadership last year, headed by new team president Frank Coonelly, general manager Neal Huntington and a still-to-be-hired manager. Coonelly and Huntington took over last month, and spent the five days since the season ended weighing a decision on Tracy.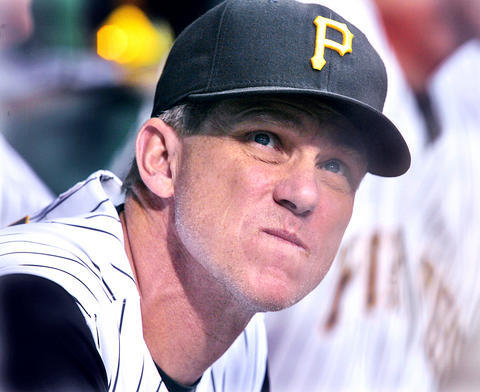 Pittsburgh Pirates manager Jim Tracy looks up as the Pirates play the Arizona Diamondbacks in Pittsburgh, Pennsylvania, on Sept. 27. The Pirates fired Tracy on Friday after the team went 68-94 this season.
PHOTO: AP
Tracy's departure has appeared imminent since former general manager Dave Littlefield, who chose Tracy two years ago, was fired on Sept. 7. Tracy was due to make US$1 million in the final year of his contract.
The firing means Tracy may not manage next season after spending five seasons running the Dodgers and Pirates. His 280 losses over the last three seasons were the most in the majors.
The losses in Pittsburgh piled up in a hurry, too -- in only Tracy's second month in May last year, the Pirates lost a club-record 13 in a row that in effect put an end to their season before Memorial Day. They also lost eight in a row in late September last year.
This season, they dropped 14 of 16 after the All-Star break and 13 of 15 to end the year. That poor finish came as the Pirates were weighing whether to bring Tracy back for the final season of his contract.
Comments will be moderated. Keep comments relevant to the article. Remarks containing abusive and obscene language, personal attacks of any kind or promotion will be removed and the user banned. Final decision will be at the discretion of the Taipei Times.