Wenger says success may fuel unrest
Arsene Wenger fears Arsenal's exceptional start to the new season could lead to several of his out-of-favor stars growing unhappy at the club.
The north Londoners have won 11 of their first 12 matches in all competitions this term, making serene progress in the Champions League and establishing a two-point lead at the top of the English Premier League.
That advantage could be extended with victory over struggling Sunderland at home today, but while Wenger is thrilled at his team's unexpected success, he is concerned that his fringe players could become disgruntled at being denied first team action.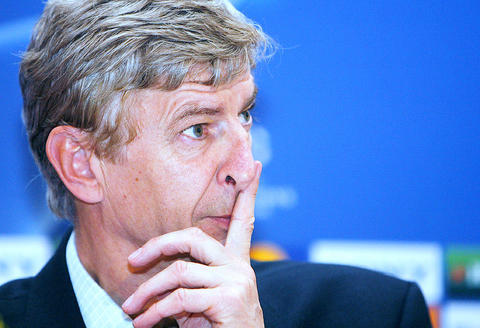 Arsenal manager Arsene Wenger looks on during a press conference in Bucharest, Romania, on Monday.
PHOTO: AP
Jens Lehmann, the Germany goalkeeper, has already aired his frustration at being ousted by Manuel Almunia and Gilberto Silva, the Brazil midfielder, has also hinted that he is unhappy at losing his place to Mathieu Flamini.
But Wenger insists he will utilize his whole squad in a potentially gruelling season and has reiterated his intent not to sell when the transfer window re-opens in January.
"It is not just one difficult decision to make over whether Jens Lehmann plays -- I have 23 difficult decisions because all the players are so competitive. I trust everyone to play in any top level game so I have a hard job," Wenger said.
"I can understand Gilberto's frustrations as well," he said. "Many other players are as frustrated as he is because they have the right to play, as they have the quality, but I can only pick 11 players."
"I believe everyone will have games during the rest of the season. If you look at our schedule until December, we play every three days so there will be many opportunities. I am not against rotation but there are periods where I feel the team should be left alone," Wenger said.
The Arsenal manager's selection headache could become even more severe if Sepp Blatter, the Fifa president, succeeds in his plan to introduce a quota system on foreign players. Blatter wants to impose a limit of five non-native players at European clubs, a proposal which piqued Wenger.
"I am totally against it. I feel sport is competition and competition is based solely on merit," Wenger said. "You need to push the level of the game as high as you can so that people can enjoy it, and that should not be based on where you come from, but on who you are and how you can perform on the football pitch."
Wenger is likely to name an entirely non-British team for the visit of Sunderland, a game which brings him face-to-face with his old Manchester United nemesis Roy Keane.
The Irishman enjoyed some famous battles with Wenger's side during his spectacularly successful career with Manchester United and the 36-year-old admits this is the one fixture which makes him pine for his playing days.
"It was brilliant, absolutely brilliant. Usually my preparation for a game on a Saturday if we were playing Arsenal would start on the previous Sunday," Keane said.
"Your body just knew you were going to play Arsenal, just psychologically, your body would get ready for it," he said.
Rafa Benitez has rubbished claims that Liverpool's dip in form is a result of the club's recent coaching changes.
Liverpool entertain Tottenham today having won just two of their last six games, culminating in Wednesday's shocking performance in their Champions League defeat at home to Marseille.
It has been suggested that the bad run has coincided with the departure of Benitez's assistant manager Paco Ayestaran, following a break-down in the relationship between the pair after a decade working together in Spain and England.
But Benitez said the behind-the-scenes upheaval is not the cause of the current slump and has spread his former colleague's work-load among the rest of his coaching and technical staff.
"I do not believe that the management changes have affected the situation," the Liverpool manager said.
"We have been analysing the data regarding our players and we are running more, covering more ground and our physical condition is fantastic," he said.
"With regards to the coaching, I was coaching with the team before. I am not a traditional English manager sitting in an office, I am always on the pitch with the players," Benitez said.
"I was on the pitch before, I was on the pitch today and I will be on the pitch tomorrow," he said.
Comments will be moderated. Keep comments relevant to the article. Remarks containing abusive and obscene language, personal attacks of any kind or promotion will be removed and the user banned. Final decision will be at the discretion of the Taipei Times.