Springboks aim to stifle Fijians
ASKING FOR TROUBLE South African center Jaque Fourie could be in for a rough ride in Marseille today after he said that the `Boks do not respect Fiji
South Africa have vowed to batten down the hatches in their World Cup quarter-final game against a Fiji team that loves free-flowing rugby and an expansive game.
The Springboks, boasting a national record total of 639 caps in the starting XV, will look to their steely pack to close down the game to nullify the skillful Fijian side.
Wales fell into the trap of playing the Fijians at their own game and came horrendously unstuck, losing 38-34 in the decisive pool game and missing out on a berth in the knock-out phase.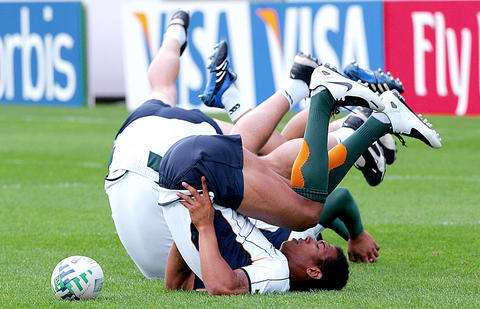 South Africa's Ashwin Willemse stretches during a training session in Marseille, France, on Friday.
PHOTO: AFP
That is something lock Victor Matfield said the 'Boks would not be doing.
"Fiji would like an open game but we will play to our game plan even if it does not please the crowd," Matfield said.
"They are good when they get the ball so we need to keep it away from them as much as possible," he said, adding that the Pacific Islanders had performed decently in the line-out against the Welsh.
?
Center Jaque Fourie, who will likely be targeted by hard-hitting opposite number Seru Rabeni, especially after saying that the Boks did not respect Fiji, said he was relishing the chance of a big-contact game.
"We like the physical confrontations," Fourie said, "Fiji are a threat because they are all good runners and steppers."
He stressed that his team's gameplan would not involve playing in the style of rugby sevens, the abbreviated and much faster form of the game in which Fiji have become world masters.
"If you make it a seven's game then that's what they [Fiji] want," Fourie said.
"For the first 20 to 30 minutes -- if we can keep it structured, keep it short, keep it boring and put some points on the board -- then at the back end of the game we can open it up a bit," he said.
Fellow center Francois Steyn added that first-up tackles could also play a big role in the match at the Stade Velodrome.
"We need to get the Fijian players on the ground as soon as possible. We can't take them high because they are very strong in the upper body so we need to wrap them up around the legs," he said.
"The sooner we get them to the ground then we can attack the ball," Steyn said.
Comments will be moderated. Keep comments relevant to the article. Remarks containing abusive and obscene language, personal attacks of any kind or promotion will be removed and the user banned. Final decision will be at the discretion of the Taipei Times.