Woods leads by three in Atlanta
Tiger Woods is off to a perfect start at the rain-soaked PGA Tour Championship, firing a seven-under 63 on Friday with the help of an improbable 21m eagle putt to wrap up his front nine.
The eagle was preceded by five consecutive birdies beginning at the fourth hole and vaulted Woods into the tournament lead, helping move him to 13-under 127 after 36 holes.
"I had a nice little roll there from four through nine," Woods said. "Some lucky things happened in that stretch which was nice. Overall it was a good solid round and I have a three-shot lead."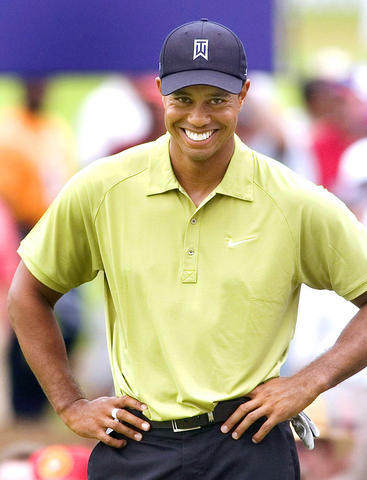 Tiger Woods reacts after making an eagle putt of more than 21m on the 9th green in the second round of The Tour Championship at the East Lake Golf Club in Atlanta, Georgia, on Friday.
PHOTO: EPA
Woods, who started this tournament with three-straight birdies, has a three-shot cushion over fellow American Woody Austin, who shot 65.
Defending champion Adam Scott of Australia (66) and first-round leader Tim Clark of South Africa (69) are four shots adrift of Woods.
Everyone is taking advantage and posting low scores as just two of the 30-man field are above par heading into the weekend.
Woods is shooting for two titles this week as the Tour Championship is doubling as the fourth and final stop on the PGA Tour's inaugural FedEx Cup playoffs, which includes a US$10 million bonus to the winner.
This was one of the best nine-hole scoring runs of Woods' 11-year career and his longest birdie streak since he rolled in seven straight at the 2005 Masters.
One of the greatest players in the history of the game, Woods couldn't believe his own good fortune at times.
When he drained the eagle on the 549m, par-five ninth hole he just looked down, rubbed his eyes, chuckled and then shook his head.
"It was one of those moments where the ball was bouncing every which way," he said. "It was left of the hole then right of the hole, then left of the hole, then right of the hole and then lo and behold it goes in. If you could have been right behind the golf ball and seen how that thing was bouncing all over the place it was actually quite funny. Pure luck."
After holing out on a blind bunker shot on the 475m par-four fifth hole, Woods simply shrugged his shoulders, a la Michael Jordan, as if to indicate somehow more luck might have been involved.
Jordan did the same thing in game one of the 1992 NBA Finals after one of the six three-pointers he scored in the first half against Portland.
But golf fans know better. They've seen this before from Woods.
Woods' previous longest birdie streak this year was four straight at the Players Championship in May.
The longest birdie-eagle stretch of his career was an eagle, eagle, birdie, birdie at the 2005 Buick Open.
"I was trying to get myself inside 10 to 15 feet [3m to 5m]," Woods said. "There was a bunch of sand and I hit it pretty hard and it came out great but I still thought it was going to go by the hole. Next thing I hear a big roar. I thought it hit the flag and scooted off. I walked up and it was gone. Nice surprise."
Woods said this streak deserves an asterisk beside it because of the way the course is playing after the rain.
"I liked the one at Augusta a lot more actually," Woods said. "That golf course is a little harder -- I should correct that, a lot harder."
Comments will be moderated. Keep comments relevant to the article. Remarks containing abusive and obscene language, personal attacks of any kind or promotion will be removed and the user banned. Final decision will be at the discretion of the Taipei Times.