Supersub earns hosts a victory
SAME OLD STORY World No. 11 China and No. 6 Denmark are old rivals, but the Danes were left ruing their eighth defeat to China, their only victory in a friendly six years ago
Substitute Song Xiaoli came to the rescue in the dying minutes to give China a thrilling 3-2 victory over Denmark on Wednesday in their women's World Cup opener.
Midfielder Song pounced in the 88th minute with an amazing long-range strike to foil the Danish comeback plans after veteran Cathrine Paaske's equalized to level at 2-2 only seconds earlier.
"You have to play 100 percent to win such a game, and it's also an opening game so it was very important," China's Swedish coach Marika Domanski-Lyfors said.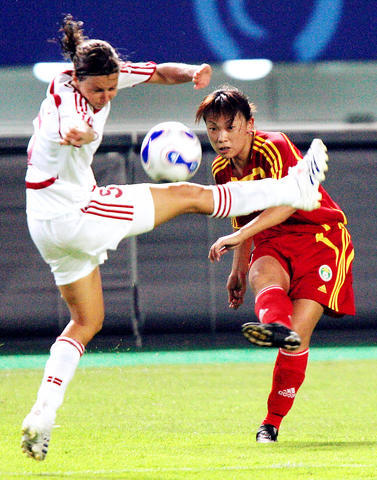 Denmark's Bettina Falk, left, tries to block a shot by China's Pan Lina during their Group D match at the Women's World Cup in Wuhan, China, on Wednesday.
PHOTO: AP
The 12th meeting between the two traditionally strong soccer nations was a closely fought affair, but a hard-running China once again showed that determination and speed sometimes matter more than physique and technique.
"Nobody ever gave up," said captain Li Jie, who in the fading moments was taken off the field on a stretcher after apparently injuring her thigh.
In front of a near-capacity home crowd at the 52,000-capacity Wuhan Sports Center Stadium, an attacking China made the crowd roar with delight as the less experienced home side held nothing back against the larger more powerful Danes.
PHOTO: REUTERS
China scored first when Li capitalized on a Danish foul to put her team up 1-0 in the 31st minute after veteran Katrine Pedersen challenged midfielder Bi Yan.
Bi, 23, got her revenge later when she hammered her own rocket from 35m in the 50th minute.
But it was the hardworking Chinese strikers Han Duan and rising star Ma Xiaoxu, 19, who set the tone from the opening moments with repeated dangerous incursions into Danish territory.
Ma, who has a reputation for not mincing her words, told a post-match press conference she was displeased with her performance but happy with the victory.
"I may not be too satisfied with my play today but the team did well so I'm happy," Ma said. "But I made mistakes and not everyone can be perfect."
World No. 11 China and sixth ranked Denmark are old rivals, but Danish coach Kenneth Heiner-Moller's side were left ruing their eighth defeat to their Asian nemesis, their only victory coming in a friendly six years ago.
The second half began much like the first, with Han, a seven-year veteran with 130 international caps, breaking up the flank to challenge besieged Danish goalkeeper Heidi Johansen.
Ma was just as dangerous on the left, and although Denmark's Paaske threatened to steal China's glory when she headed home a looping pass from substitute forward Stine Dinum, it was Song who stole the honors and earned China three points.
Domanski-Lyfors, who was hired in April in hopes she could lead the once formidable "Steel Roses" to a semi-final appearance, acknowledged the team has its work cut out against Group D rivals Brazil.
"To beat Brazil would be very, very good," said Domanski-Lyfors.
Comments will be moderated. Keep comments relevant to the article. Remarks containing abusive and obscene language, personal attacks of any kind or promotion will be removed and the user banned. Final decision will be at the discretion of the Taipei Times.