Sevilla overcome Puerta's death to book group spot
MEMORIAL Completing a 6-1 aggregate win in a match that was delayed by Antonio Puerta's death, Sevilla will face Arsenal, Slavia Prague and FCS Steaua in Group H
Luis Fabiano scored twice on Monday and Sevilla overcame last week's death of midfielder Antonio Puerta to reach the group stage of the European Champions League with a 4-1 victory over AEK Athens.
The match, originally scheduled for last week, was postponed when Puerta died on Aug. 28, three days after collapsing on the field during a Spanish league match against Getafe and suffering subsequent heart attacks.
Fabiano converted a 31st-minute penalty and headed in a corner from Diego Capel in the 45th. Keita beat AEK keeper Marcelo Moretto in the 40th, heading in a corner kick from Daniel Alvez.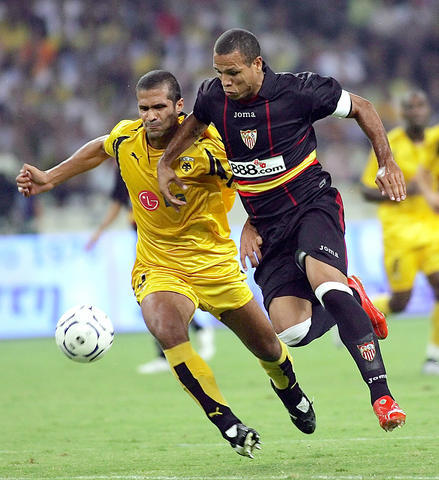 Sevilla's Luis Fabiano, right, tackles AEK Athens' Geraldo Alves during their Champions League qualification match at the Olympic Stadium in Athens on Monday.
Photo: AFP
And in the 54th, Alexander Kerzhakov raced through the AEK defense and placed the ball out of Moretto's reach, giving Sevilla a 6-1 aggregate victory.
Brazil veteran Rivaldo provided AEK's consolation with a penalty in the 82nd, beating Sevilla keeper Andres Palop who had saved another spot kick from Gustavo Manduca in the 65th.
Sevilla -- which won the last two UEFA Cups -- now joins FC Steaua, Arsenal and Slavia Prague in Group H of the European Champions League, while AEK was relegated to the UEFA Cup and a first-round meeting against Salzburg.
"We took a big step in Europe today ... We are in Europe's top-flight for the first time," Sevilla manager Juande Ramos said. "Some of the other teams in our group have more experience. But what I can promise you is that we will fight. Both teams ignored the score and played great soccer ... AEK pressed early, but once we started scoring it all became easier for us."
AEK manager Lerenzo Serra Ferrer was not entirely displeased.
"The score didn't totally reflect what happened on the field," he said. "What we lacked was finishing strength in attack."
Besides the death of Puerta, AEK had also requested a postponement because of wildfires in southern Greece that killed 65 people and caused a national state of emergency.
Before Monday's game, some 50,000 AEK supporters clapped when a video tribute to Puerta was played at Athens' Olympic stadium, and displayed banners in his honor.
Players also observed a moment of silence for Puerta and the Greek fire victims, as AEK fans held up lighted candles.
"We thank AEK for that initiative. They showed they are a great club," Sevilla's Ramos said. "I also offer our condolences to the families of the victims of the fires."
Sevilla won the first leg against AEK 2-0.
Comments will be moderated. Keep comments relevant to the article. Remarks containing abusive and obscene language, personal attacks of any kind or promotion will be removed and the user banned. Final decision will be at the discretion of the Taipei Times.