Diaz takes early lead at Canadian Open
MORE WOES FOR WIE Taiwan's Tseng Ya-ni ended the first round in joint third place while Michelle Wie's poor form continued as she finished 10 strokes behind the leader
American Laura Diaz shot a six-under-par 65 to seize the early advantage on Thursday at the US$2.25 million Canadian Women's Open.
"I had a lot of putts that were about 15 feet, and I managed to make the majority of them; and then I had a couple six footers that I was able to make, as well," Diaz said.
Diaz, who had finished 12th or better in three straight tournaments to end last month before missing the cut at the Women's British Open at St. Andrews two weeks ago, is seeking her first tour victory since 2002 and the third of her career.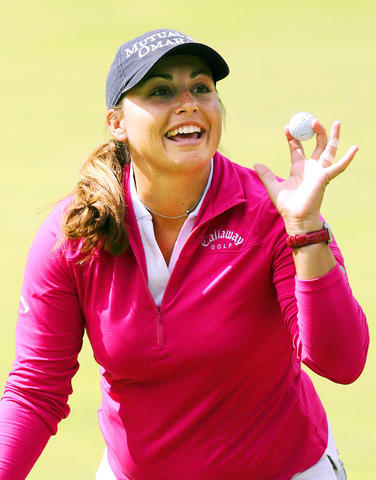 Kelli Kuehne celebrates at the 18th hole at the Royal Mayfair Golf and Country Club in Edmonton, Alberta, on Thursday.
PHOTO: AP
After starting off with a two-under 34 on the back nine, Diaz scorched the greens at the Royal Mayfair Country Club by shooting a 31 on the front nine to wrap up her day.
She finished with three birdies on the last four holes to complete her bogey-free round.
Kelli Kuehne and South Korea's Kyeong Bae are tied for second place, one shot behind Diaz at 5-under.
Kuehne has missed the cut in four straight and seven of her last eight tournaments while Bae is searching for her fourth top-10 finish of the season and the first tour victory of her career.
"Have you seen my year?" Kuehne said. "It's the first round and [the tournament] takes four days. I'm certainly not even remotely planning on getting ahead of myself. It's a great round and a good thing for me, but it's one day."
Taiwan's Tseng Ya-ni shot a 4-under 67 to tie for third place with South Koreans Jeong Jang and Meena Lee and Jill McGill and Heather Young of the US.
The world's top-ranked player, Lorena Ochoa, shot a 70. Fresh off winning her first major title -- she won the British Open on Aug. 5 -- Ochoa is looking to add to her tour-leading four wins and 14 top-10 finishes in 17 events.
"I hit the ball really good [but] not so good with my driver and it was kind of an up-and-down round, but I'm pleased I finished in the red numbers," Ochoa said.
Taiwan's Teresa Lu was tied with Ochoa and eight others for sixth place. Candie Kung was two shots further back with Amy Hung a further shot behind.
Michelle Wie opened with a 75, 10 strokes behind the leader.
Wie closed her late afternoon round with a double bogey on the par-4 ninth. She also had a double-bogey 6 on No. 12, a bogey on the par-5 third and a birdie on the par-4 first.
Comments will be moderated. Keep comments relevant to the article. Remarks containing abusive and obscene language, personal attacks of any kind or promotion will be removed and the user banned. Final decision will be at the discretion of the Taipei Times.