Doornbos recovers to win in San Jose
Dutch driver Robert Doornbos recovered from a mishap on the first lap that dropped him into last place to win the San Jose Grand Prix on Sunday.
Doornbos, in his first season in the Champ Car series, finished 6.145 seconds ahead of runner-up Neel Jani of Switzerland. Spaniard Oriol Servia, who led for 42 laps on the 2.3km course through the streets of San Jose, wound up third.
Polsesitter Justin Wilson sustained suspension damage on the sixth lap and was able to complete just 87 laps. He finished 13th.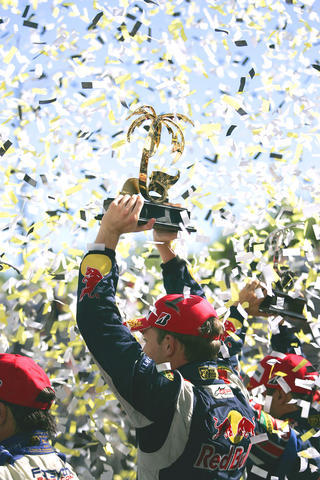 Robert Doornbos hoists his trophy after winning the Champ Car San Jose Grand Prix in downtown San Jose, California, on Sunday.
PHOTO: AP
Points leader Sebastien Bourdais finished fifth and his lead over Doornbos in the championship race dwindled to 10 points. Bourdais had won the first two San Jose races and last week's Edmonton race.
On the first turn of the first lap, Doornbos came in contact with the car of Belgian Jan Heylen and Doornbos' car lost its front wing. He was forced into the pits and when he emerged he was in last place.
"When you are far in the back, whether it's 15th or 17th, it doesn't make a big difference," Doornbos said. "It was very easy to pass people and save fuel."
A member of Doornbos' crew told him to "push like it's qualifying," and that was all he wanted to hear.
"That's a lot of fun for a driver to do," he said. "Sometimes it is pretty boring you can tend to fall asleep but when he says push like's it's qualifying you've got a big power up there and you can go up to the limit."
"The race is so long," he said. "An hour and 45 [minutes] is the longest race I've ever driven. Anything can happen. It is physically very demanding. You can wait for other people to make mistakes."
Comments will be moderated. Keep comments relevant to the article. Remarks containing abusive and obscene language, personal attacks of any kind or promotion will be removed and the user banned. Final decision will be at the discretion of the Taipei Times.