Carlos Moya, Andrei Pavel advance to Croatia Open final
Carlos Moya of Spain and Andrei Pavel of Romania advanced to the final of the Croatia Open on Saturday.
Moya has a chance to win his fifth title at Umag after defeating Argentina's Guillermo Canas 6-3, 6-2 in the semifinals. Pavel beat Serbian qualifier Viktor Troicki 6-3, 6-3.
Moya won the tournament in 1996, 2001, 2002 and 2003 and has a 42-8 record in Umag.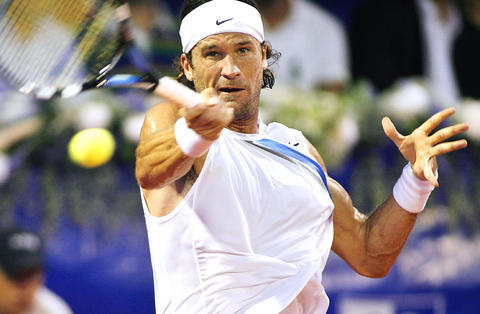 Spain's Carlos Moya returns a forehand to Argentina's Gullermo Canas during their semi-final match at the Croatian ATP Open in Umag, Croatia, on Saturday. Moya won 6-3, 6-2.
PHOTO: AP
`Special connection'
"Of course I hope to win again," said Moya, adding that he feels a "special connection" to the tourney.
Moya dominated the match from the start and gave up only one service break to put Canas up 1-0 in the second set.
"I gave my best, but I was not able to win," Canas said.
Pavel advanced to his first ATP Tour final since Poertschach, Austria, in May last year.
`Like a dream'
"It's like a dream right now," Pavel said.
He controlled the match against Troicki comfortably, making the most of his precise backhand and a good serve.
Troicki, playing in his first tour semifinal, had ousted top-seeded Novak Djokovic in the second round, but could not pull off another upset. Troicki broke Pavel's serve to level the second set at 1-1, but then lost the next four games.
The 21-year-old Troicki, ranked 176th, said he "physically could not take it anymore. I was tired."
Comments will be moderated. Keep comments relevant to the article. Remarks containing abusive and obscene language, personal attacks of any kind or promotion will be removed and the user banned. Final decision will be at the discretion of the Taipei Times.