Forest beats Baldomir to win IBC title
'STILL RUSTY' The US boxer entered the fight coming off three wins after taking two years off because of injuries and said 'I need to fight more than once a year'
Vernon Forrest withstood a late rally by Carlos Baldomir to win the WBC super welterweight championship in a unanimous decision on Saturday night.
Forrest (39-2), who is taller than Baldomir (43-11-6) and had a big reach advantage, used left jabs to set up body and head shots with his right.
Encouraged by his corner to aim for the body, he kept up constant pressure on Baldomir with body shots as well a few shots to the face.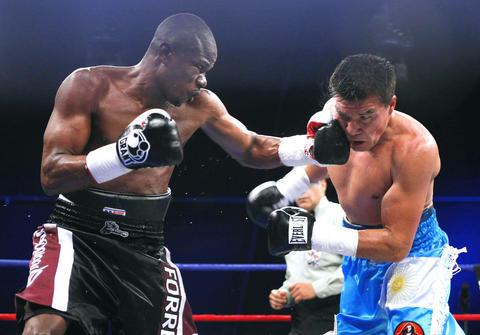 Vernon Forrest, left, connects with a left to the head of Carlos Baldomir during their fight for the WBC super welterweight title in Tacoma, Washington, on Saturday. Forrest won the 12-round bout by unanimous decision.
PHOTO: AP
Baldomir, known for his tough chin, took a number of hard punches but didn't take shots to the body as well as he took the hits to his face. The Argentine used a plodding style in an attempt to wear down the more agile Forrest.
"Baldomir pushed me to the limit," Forrest said. "He kept coming and never stopped."
The judges scored it 118-109, 118-109 and 116-111 for Forrest.
"Carlos is no slouch," Forrest said. "He brought everything for 12 rounds."
The bout between 36-year-old former welterweight champions in front of an estimated sellout crowd of 2,200 at the Emerald Queen Casino was the first title fight in Washington since 1988, when Greg Haugen successfully defended his IBF lightweight title against Miquel Santana.
The crowd started to get excited in the seventh round when action picked up and Forrest landed more punches as Baldomir attempted to come straight at him. Baldomir bounced back a bit in the eighth, one of the closest rounds.
He seemed to be inspired in the ninth when Forrest had a point taken away for a low blow. Baldomir landed punches and caused Forrest to dance away from him late in the round.
"I pressed the action all night," Baldomir said. "I thought I fought a really good fight."
The showdown on Saturday was set up when Floyd Mayweather vacated the title to drop down a weight division.
Forrest entered the fight coming off three consecutive wins after taking two years off because of injuries. In his previous fight, Forrest narrowly defeated Ike Quartey in a disputed decision last August.
Forrest gained attention in 2002 with back-to-back wins over Shane Mosley. Both of his losses were to Ricardo Mayorga.
"I felt I was back in 2002," Forrest said. "I'm still a little rusty. I need to fight more than once a year."
Baldomir came into the fight after losing to Mayweather nine months ago. He knows this loss will make him take a serious look at his boxing future. Baldomir has never been knocked down in a fight, but losing to Forrest leaves him in a tough spot.
"I'm going to have to think about it very seriously," Baldomir said when asked after the fight if he might retire. "But this was probably my last fight."
Forrest, who injured his left hand early in the fight after punching Baldomir in the head, knew he had just finished a hard-fought fight.
"He [Baldomir] not only was able to take it, he was able to give it," Forrest said.
Baldomir threw 669 punches to 663 for Forrest, but Forrest landed 286 punches to 157 for Baldomir.
Forrest kept his focus squarely on Baldomir because he knew looking ahead could cause trouble.
"I always seem to fight to the level of my opponent," Forrest said.
Comments will be moderated. Keep comments relevant to the article. Remarks containing abusive and obscene language, personal attacks of any kind or promotion will be removed and the user banned. Final decision will be at the discretion of the Taipei Times.