Singh seizes lead in Canadian Open
Fiji's Vijay Singh fired a three-under-par 68 on Saturday to seize the third-round lead in the Canadian Open.
While Singh's one-stroke lead was narrow, his advantage in experience over his nearest challengers -- Steve Allan and John Mallinger -- was huge.
Singh, who won this title in 2004, has already won twice this season.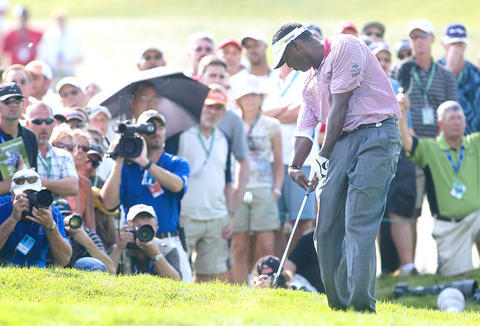 Vijay Singh hits an approach shot on the 18th hole during the third round at the Canadian Open on Saturday in Markham, Ontario. Singh led after the round.
PHOTO: AP
The world No. 7 is seeking his 32nd US Tour victory while Australia's Allan and Mallinger are in search of their first.
Despite a shaky finish that included two late bogeys, Singh topped the leaderboard with a 201.
Allan and Mallinger each shot 70 for 202.
Singh had back-to-back birdies at the first two holes before a bogey at No. 3. He finished the front nine with birdies at the seventh and ninth. He added to his lead with a birdie at 11.
The trouble started for Singh with a bogey on the 13th. He rebounded with a birdie at 14, but gave a shot back with a bogey at 16.
"I'm kind of disappointed with the way I finished. I thought I played much better than a 68 out there," Singh said. "I did a lot of things that I normally wouldn't do, but that's the way golf is, I guess. Hopefully, I can limit those mistakes and finish the job."
Singh led by two through 11 holes, thanks to five birdies and a bogey.
At 13 he failed to get up and down from deep rough, but he responded with a birdie at 14.
He settled for a three-putt par at the par-five 15th, and dropped another shot at 16 to allow the field to stay within range.
"I made a few good up-and-downs and got away with a bad tee shot on No. 11. At the end of the day, it evens out," he said. "Not making birdie at the 15th, then bogey at the 16th, these are things I normally take advantage of."
Comments will be moderated. Keep comments relevant to the article. Remarks containing abusive and obscene language, personal attacks of any kind or promotion will be removed and the user banned. Final decision will be at the discretion of the Taipei Times.