Cuba dominates Pan Am athletics
LOCAL GIRL Brazilian fans cheered the dramatic run by countrywoman Sabine Heitling in the women's 3,000m steeplechase as she won on the last lap
Yeimer Lopez set a Pan American Games record in the 800m on Saturday, helping Cuba dominate track and field with a total of 12 gold medals.
Brazilians Fabiano Pecanha and Kleberson Davide were first and second for most of the race until Lopez blew by them on the final turn at the Joao Havelange stadium and won in 1 minute, 44.58 seconds. Davide finished second in 1:45.47 and Pecanha was third 1:45.54.
Lopez shattered the record of 1:45.05 set by Canada's Tadili Achraf at the 2003 games in Santo Domingo.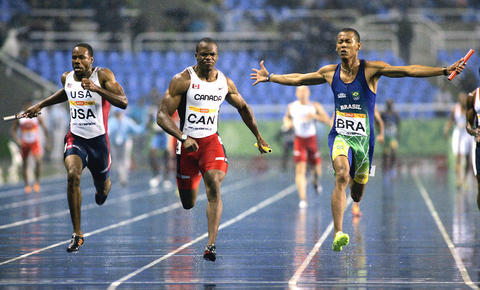 Brazil's Sandro Viana, right, crosses the finish line to win the gold medal in the men's 4x100m relay at the Pan American Games in Rio de Janeiro, Brazil, on Saturday. Darvis Patton of the US, left, placed third, while Canada's Brian Barnett placed second.
PHOTO: AP
Cubans excelled in athletics, winning 30 total medals. The Brazilians finished second with eight golds and 22 overall medals. The US had six gold and 24 total.
The men's marathon was scheduled to be run yesterday.
Cuba's Dayron Robles won the men's 110m hurdles in 13.25 seconds, just 0.08 seconds off the Pan Am record set by Cuban Anier Garcia in 1999 in Winnipeg. David Payne of the US took silver and Cuba's Yoel Hernandez won bronze.
Cuba also was the surprise winner of the women's 1,600m relay. The US led for most of the last two legs, but Cuba's Indira Terrero streaked past Nicole Leach of the US in the home stretch to win gold in 3:37.51. Mexico grabbed silver with 3:27.75, while the US took bronze in 3:27.84.
Guillermo Martinez gave Cuba its fourth gold in the javelin, with a toss of 77.66m. US athlete Mike Hazle took silver with 75.33, and Brazil's Alexon Maximiano won bronze with 75.04.
The US finished 1-2 in the discus throw, with Michael Robertson taking gold with a throw of 59.24m. Adam Kuehl won silver with 57.50m meters, edging out third-placed Dariusz Slowik of Canada by 0.13m.
US athletes also finished 1-2 in the men's 3,000m steeplechase, with Josh McAdams overtaking Michael Spence on the back stretch to take gold in 8:30.49. Spence stumbled on the final hurdle to finish second in 8:32.11, and Cuba's Jose Alberto Sanchez was third.
Many athletes suffered in the cool, rainy weather of the South American winter, with temperatures of 17oC.
Brazilian fans cheered the dramatic victory of Sabine Heitling in the women's 3,000m steeplechase. Running in second for most of the race, she streaked to the lead on the last lap and won with a personal best of 9:51.13.
Mexico's Talis Apud also saved a kick to take silver in 9:55.43, just 0.27 seconds ahead of Brazilian Zenaide Vieira, who slowed down at the end thinking the silver was secure.
Brazil also took gold in the men's pole vault, with Fabio Silva clearing 5.4m. Mexico's Giovanni Leonardo won silver with a jump of 5.3m, and German Chiaraviglio was bronze with 5.2m.
Brazil's big surprise was in the men's 400m relay, where Sandro Viana outsprinted Canada's Brian Barnett in the final stretch to take gold in 38.81. Canada won silver in 38.83 and the US was bronze with 38.88.
But Jadel Gregorio's victory for Brazil in the triple jump was no surprise. One of the world's elite jumpers, Gregorio won gold with 17.27 -- the only jumper to top 17m. Cuba's Osniel Tosca won silver with a jump of 16.92m, and fellow Cuban Yoandris Betanzos was bronze with 16.90m.
Jamaica picked up its lone gold of the afternoon in the women's 400m relay.
Comments will be moderated. Keep comments relevant to the article. Remarks containing abusive and obscene language, personal attacks of any kind or promotion will be removed and the user banned. Final decision will be at the discretion of the Taipei Times.