Michael Rasmussen retains lead after Tour `race of truth'
He could have let the pressure of being the Tour de France's No. 1 villain get to him.
But on the first big time trial of the Tour de France on Saturday, Michael Rasmussen produced the performance of his life to hang on to the lead a day before the peloton heads into the Pyrenees.
Famous as much for his superb climbing as for his comparative absence of any skill on the time trial bike, Rasmussen finished the 54km "race of truth" in 11th place, 2 minutes 55 seconds behind Kazakhstan's Alexandre Vinokourov.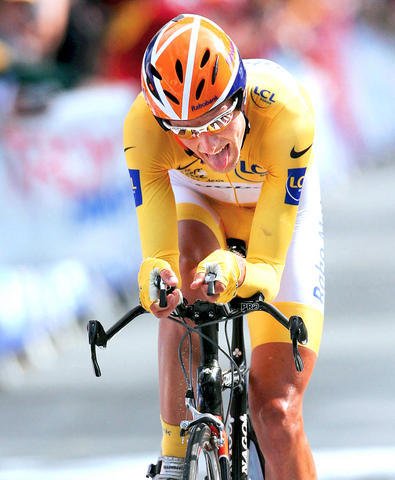 Danish rider Michael Rasmussen of the Rabobank team races during a 54km time trial during the Tour de France near Albi, France, on Saturday. Rasmussen retained the yellow leader's jersey after the stage.
PHOTO: EPA
For a rider who crashed twice, forcing three changes of bike in one of the Tour's long time trials two years ago, the Rabobank rider was delighted with a result which kept the yellow jersey on his shoulders with a 1 minute lead over Australian Cadel Evans.
To top it off Rasmussen, who has been at the center of controversy after revelations that he has missed several random doping controls in the past two years, overtook Spanish rival Alejandro Valverde in the home straight.
"I surprised everybody -- including myself -- today," said Rasmussen, who started last from the 166-strong field and three minutes behind Valverde.
"The yellow jersey was definitely a huge motivation and obviously when I saw Valverde in front of me, that encouraged me even more," he said.
Refusing to answer questions on the controversy surrounding him, Rasmussen admitted the drier conditions, after some earlier rainfall, had helped him.
"I did have a bit of luck with the weather. A lot of my competitors had less than favorable conditions to ride in, particularly on a technical descent," he said.
Rasmussen, however, is still causing a problem for the race organizers.
In June he was banned from representing Denmark by the Danish Cycling Union (DCU), who revealed on Thursday that he had missed a total of four random doping tests -- two from the DCU and two from the International Cycling Union (UCI).
Rasmussen defended himself, saying: "I do admit I committed an administrative error. I can confirm I have no positive doping tests and I have been tested out of competition in June and those tests were negative."
Under World Anti Doping Agency (WADA) rules, missing three doping controls amounts to a doping violation.
However, neither the DCU, the UCI or Tour de France organizers can sanction him.
After Saturday's stage race, director Christian Prudhomme said if they had been privvy to the information on Rasmussen's missed tests, they would have forced his team to pull him out of their Tour squad.
"What I regret more than ever is that we didn't have this information on June 29, or on the following days before the Tour started," Prudhomme said. "We would have made the Rabobank team face their responsibilities."
Rasmussen meanwhile will begin the first of three days in the Pyrenees with the yellow jersey on his back, and he is determined to keep it all the way to Paris.
Comments will be moderated. Keep comments relevant to the article. Remarks containing abusive and obscene language, personal attacks of any kind or promotion will be removed and the user banned. Final decision will be at the discretion of the Taipei Times.