Pereira breaks Pan Am medal mark
Thiago Pereira of Brazil broke the 40-year-old record of Mark Spitz for most swimming gold medals at a single Pan American Games by winning the 200m breaststroke for his sixth gold on Saturday.
Brazil also added golds in women's handball and beach volleyball, but the host was eliminated in men's soccer, along with defending champion Argentina.
The US finished the eighth day with 51 gold medals, 25 more than Cuba and 31 more than third-place Brazil.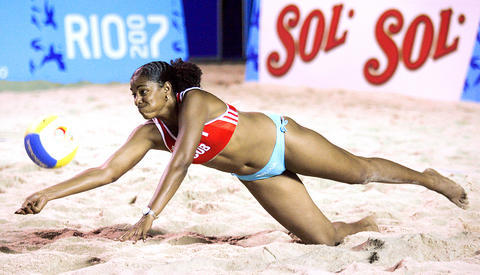 Cuba's Dalixia Fernandez dives for the ball in a gold medal beach volleyball match against Brazil at the Pan American Games in Rio de Janeiro on Saturday. Brazil won the match and the gold medal. Cuba took silver.
PHOTO: AP
Pereira finished in 2 minutes, 13.51 seconds, beating teammate Henrique Barbosa (2:13.83) and Scott Spann (2.13.98) of the US at the packed Maria Lank aquatic complex.
Spitz won five golds at the 1967 Pan Ams in Winnipeg. He still holds the record of seven Olympic golds won at the 1972 Munich Games.
"I'm very happy with this record of six gold medals, but the competition isn't over yet," the 21-year-old Pereira said.
Pereira, ranked fourth in the world in the 200m medley, has a chance to win two more medals in Rio.
"I won't say that it's mission accomplished until after I'm done with Sunday's final," Pereira said. "I'm beginning to feel tired from all the swimming this week, but I need to keep my focus."
Pereira surpassed Fernando Scherer as the Brazilian with most golds at a single Pan Ams on Friday, when he won in the 200m medley and 400m freestyle relay.
Spann's bronze made him the third member of his family to medal in a Pan American Games. His sister won gold in 2003, while his father won a bronze in 1979.
Another Brazilian winner on Saturday was Kaio Marcio. He broke the Pan Ams record in the men's 200m butterfly in 1:55.45 to win his second gold. He won the 100m butterfly earlier in the week.
Seventeen-year-old Kathleen Hersey of the US clinched her third gold by breaking the Pan Ams record in the 200m butterfly in 2:07.64. Hersey had already won the 100m butterfly and 400m medley.
"I hope to be even better in Beijing," she said looking ahead to next year's Olympics.
US swimmer Charles Peterson won the 1,500m freestyle.
In the under-20 men's soccer tournament, defending champion Argentina -- playing its under-17 squad -- was eliminated after drawing Colombia 0-0.
Brazil, runner-up to Argentina in 2003 and also with an under-17 team, was knocked out after losing 4-2 to Ecuador. The host needed a draw to advance.
The US -- with an under-19 team -- was beaten 2-0 by Mexico and was also eliminated. Mexico, Ecuador, Bolivia and Jamaica advanced to tomorrow's semifinals.
In cycling, Yumari Gonzalez of Cuba won the 78km women's road race in 2:04:52, edging Belem Guerrero of Mexico and Danielys Garcia of Venezuela at the Flamengo Park circuit.
Wendy Cruz of the Dominican Republic won the 156km men's race in 3:38:50.
Comments will be moderated. Keep comments relevant to the article. Remarks containing abusive and obscene language, personal attacks of any kind or promotion will be removed and the user banned. Final decision will be at the discretion of the Taipei Times.