Hopkins overcomes Wright, age to win unanimous decision
Bernard Hopkins outfoxed age and Winky Wright the same way -- first with his head, then with his heart.
The 42-year-old Hopkins earned another stunning victory in the twilight of his career by ending Wright's seven-and-a-half-year unbeaten streak with a unanimous decision in their light heavyweight fight at the Mandalay Bay Events Center on Saturday.
Hopkins (48-4-1, 32 KOs) opened a gash over Wright's left eye with a head-butt in the second round and Hopkins spent the night picking at it while Wright (51-4-1) scrambled and counterpunched.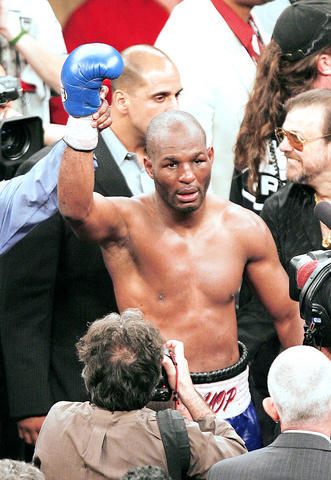 Bernard Hopkins reacts to his unanimous decision over Winky Wright after their light heavyweight fight on Saturday at The Mandalay Bay Resort and Casino in Las Vegas.
PHOTO: AP
Frustrated
Wright grew frustrated and tired in the late rounds and Hopkins stuck with his patient, steady strategy in a fight featuring more action than most expected from two defensive masters.
The win is another remarkable achievement for Hopkins, who retired last year after a career highlighted by 21 straight middleweight title defenses and last year's shocking win over Antonio Tarver.
Months later, he abandoned retirement for a shot at the 35-year-old Wright, who hadn't lost in 13 fights since December 1999.
Judges Glenn Trowbridge and Dave Moretti scored it 117-111 for Hopkins and Glenn Hamada scored it 116-112. The Associated Press gave it to Hopkins, 115-113.
Even fight
The punch statistics were nearly as even as the fight. Hopkins landed 152 of his 640 punches and Wright landed 167 of his 618 blows.
Though the fight matched two veterans who are known best for their defense and counterpunching, a potentially boring matchup got interesting at Friday's weigh-in.
After the fighters exchanged insults, Hopkins shoved Wright in the face, precipitating a brief scuffle between their entourages. Hopkins could face a hefty fine because of his actions.
`Big bully'
Hopkins was his usual ebullient self even before the scuffle, promising to be a "big bully" and declaring he had discovered a plan to penetrate Wright's highly regarded defensive skills, saying: "Everybody has a plan until they get hit."
After gaining 4.5kg of muscle for his first fight as a light heavyweight, Wright wasn't the defensive fighter who has never been knocked out.
He charged at Hopkins and forced early action -- but early in the second, the fighters bumped heads while Wright moved forward, opening up a gash over Wright's left eye.
Wright gestured angrily at Hopkins, saying the bump was on purpose.
They fought fairly evenly in the next few rounds, but Hopkins picked at the cut until it gaped open.
Comments will be moderated. Keep comments relevant to the article. Remarks containing abusive and obscene language, personal attacks of any kind or promotion will be removed and the user banned. Final decision will be at the discretion of the Taipei Times.