All Blacks down Wallabies to win Tri-Nations Cup
Flyhalf Daniel Carter kicked seven penalties around a solitary try to prop Tony Woodcock as New Zealand beat Australia 26-12 yesterday to win the Tri-Nations rugby series.
Carter landed four goals in the first half, three in the second and missed only one of eight attempts -- the sideline conversion of Woodcock's try -- to lift the All Blacks to a win over a dogged and meticulous Australian team.
The win clinched the Tri-Nations title for New Zealand for the third straight year, kept the Bledisloe Cup in New Zealand for the sixth year in a row and extended to 22 years the All Blacks' winning streak over the Wallabies at Eden Park.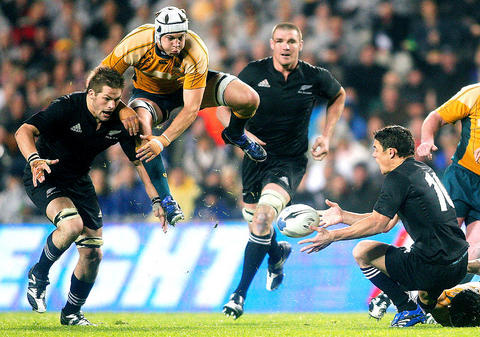 All Black Dan Carter, right, passes the ball to teammate Richie McCaw, left, as Australia's Stephen Hoiles jumps in a block attempt during their Tri-Nations rugby international at Eden Park in Auckland, New Zealand, yesterday.
PHOTO: AFP
But the match was notable once again for the uneven standard of the All Blacks' performance and left the New Zealand selectors with a number of concerns a day before they name the 30-man squad which will carry favoritism into this year's Rugby World Cup.
While the All Blacks excelled in scrums, they stuttered at lineouts, lacked presence in the loose and -- revisiting their greatest concern -- showed an inability to generate try-scoring chances among the backs.
"We didn't have a lot of ball outside our own half in the first spell," All Blacks captain Richie McCaw said. "In the second half we put them under pressure, especially chasing kicks, and got a bit of a reward for that."
PHOTO: AFP
"Through the whole Tri-Nations, the emphasis was on doing it right. We didn't always do it right but putting a couple of trophies in the cabinet tonight is pretty satisfying," he said.
A downpour which swept Eden Park immediately before kickoff and lingered into the first half forced both teams to modify their intended tactics.
New Zealand attempted to promote the ball with close passing among the forwards and through pick-and-runs from breakdowns but lacked the handling precision to make that regularly viable.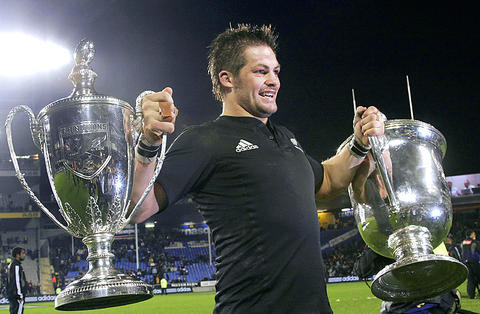 All Blacks captain Richie McCaw holds the Tri-Nations Cup, left, and the Bledisloe Cup at Eden Park in Auckland, New Zealand, yesterday.
PHOTO: REUTERS
Australia, whose handling was meticulous in difficult conditions, gained an important ascendancy in the contest for loose ball and tested the All Blacks' back three with high kicks.
The tactic, coupled with Australia's use of the blindside, proved effective and sewed seeds of doubt among a New Zealand backline that has recently been lacking in confidence.
New Zealand's most potent weapon was its scrum but it lacked the opportunity to use that weapon to full effect. By delaying put-ins and by regularly collapsing scrums, Australia negated the All Blacks' scrum advantage and reaped penalties from referee Nigel Owen.
Backplay was scarce before half-time, until showers dispersed, but Australia center and captain Stirling Mortlock attacked the All Blacks' midfield, giving his loose-forwards a mobile target behind New Zealand's defensive line.
All Blacks scrumhalf Bryon Kelleher and hooker Anton Oliver made their last Test appearances in New Zealand -- as did scrumhalf George Gregan and flyhalf Stephen Larkham for Australia -- but Kelleher and Oliver's farewells were unmemorable.
When Brendon Leonard came on to replace Kelleher and Keven Mealamu replaced Oliver early in the second half, New Zealand's performance immediately improved and they dominated territory after half-time.
The first half was physical but degenerated into a metronomic exchange of kicks.
Carter landed a ninth minute penalty and Mortlock replied after 22 minutes for a 3-3 deadlock. Matt Giteau landed his first dropped goal in test rugby after 25 minutes -- a kick verified by the video referee -- but Carter brought New Zealand level two minutes later.
Australia led with a 31st-minute penalty to Mortlock and Carter again wrestled the All Blacks on terms with his third goal after 34 minutes. His fourth four minutes later sent New Zealand to halftime with a 12-9 lead.
Carter kicked two penalties and Mortlock one in the first 10 minutes of the second half, giving New Zealand an 18-12 lead until Woodcock plunged over in the right-hand quarter for the only try, and decisive act, of the match.
Otherwise, Aussie fullback Chris Latham's appearance off the bench in the 44th minute -- ending his eight-month absence from Test rugby after a knee reconstruction -- was the game's biggest talking point.
"We had a lot more ball and a lot more territory in the first half but didn't use it as much as we should," Mortlock said. "We came out in the second half and didn't have any territory at all. In big matches little things let you down and that was probably case tonight."
Comments will be moderated. Keep comments relevant to the article. Remarks containing abusive and obscene language, personal attacks of any kind or promotion will be removed and the user banned. Final decision will be at the discretion of the Taipei Times.