Totti retires from international soccer
Francesco Totti's yearlong sabbatical from Italy's national team has turned into permanent retirement.
The 30-year-old AS Roma playmaker announced on Friday he will not return for Italy because his body can't support playing for both club and country anymore.
"To continue playing at this level I have to give something up, unfortunately," Totti said during a news conference at Roma's training center. "I can't play 50 to 60 games a year anymore."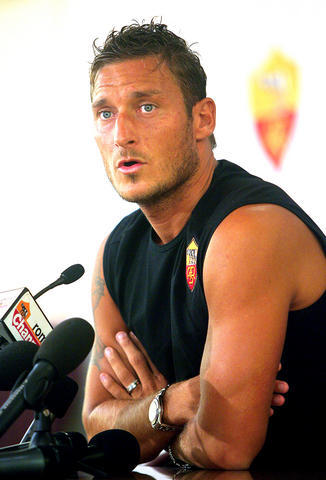 AS Roma captain Francesco Totti answers questions during a press conference at the team's training ground on the outskirts of Rome on Thursday.
PHOTO: AFP
Totti broke his left leg and strained ligaments in his ankle while playing for Roma in February last year. He played all of last season with a metal rod and about 10 support screws inside his left ankle.
He also had back trouble last season.
"I've made this decision for various physical reasons and not technical," Totti said. "I'm very sorry but it's the best thing for me because my health is most important."
Italy team manager Luigi Riva recalled how Totti hurried back from surgery to make the World Cup squad.
"We should just thank him for what he's done for Italy, the sacrifice he made to be present at the World Cup," Riva said. "After the injury we were all worried, because all he needed was a slight twist to create another serious injury. Francesco leaves with his head held high."
Totti hasn't played for the Azzurri since the World Cup final against France last year. He said after the World Cup that he needed to take a break from the national team to let his ankle heal.
Totti denied reports that he had offered to return on a part-time basis, a proposal Italian media said had been rejected by the Italian soccer federation.
"I've never asked to play part time," Totti said. "Roma and my health are my priorities."
Totti formed a special bond with Marcello Lippi when the former Italy coach visited him in his hospital room after surgery. Lippi told Totti he would keep his position open on the World Cup roster.
"That's not something you forget," Totti said. "I had a special relationship with Lippi. He's someone you can trust."
Lippi resigned after the World Cup and Totti has never played for current Italy coach Roberto Donadoni.
"I can't judge Donadoni because we've never been together for two days," Totti said. "But we have a good relationship on the telephone."
Totti said he informed Donadoni of his decision several days ago.
Asked if he might consider replicating how Zinedine Zidane retired from France's team and then returned to help the team qualify for the World Cup, Totti left it open.
"If I lose my head one day and they still want me you never know," he said. "But right now this is my decision."
Comments will be moderated. Keep comments relevant to the article. Remarks containing abusive and obscene language, personal attacks of any kind or promotion will be removed and the user banned. Final decision will be at the discretion of the Taipei Times.