Oakland Athletics end losing streak
AMERICAN LEAGUE
Lenny DiNardo pitched seven shutout innings and the Oakland Athletics ended their longest losing streak in nine years with a 6-0 win over the Texas Rangers on Wednesday.
DiNardo allowed three hits, struck out three and walked none. The left-hander gave up a pair of doubles and a bunt single but was otherwise untouchable in the longest outing of his Major League Baseball career.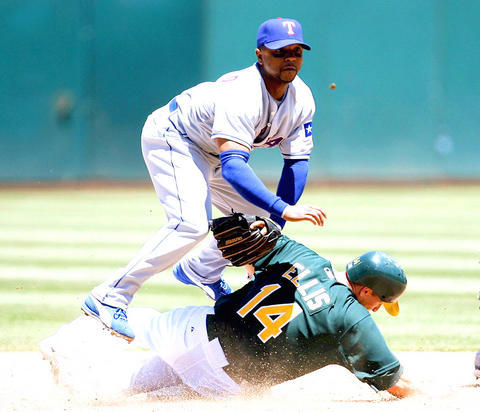 Texas Rangers second baseman Desi Relaford, top, leaps over Oakland Athletics runner Mark Ellis while relaying to first base to complete a double play during the third inning in Oakland, California, on Wednesday.
PHOTO: EPA
Bobby Crosby homered and drove in two runs for Oakland, who had lost its previous nine games. The losing streak was the A's longest since 1998 and had dropped them 12 games out of first place in the American League West.
White Sox 5, Indians 1
In Cleveland, Mark Buehrle finally beat Cleveland for the first time in more than two years and Paul Konerko hit a two-run homer for the White Sox.
Buehrle (7-5) had been winless in his previous eight starts against the Indians, last defeating them on July 16, 2005. He gave up one run and 10 hits in six 1-3 innings.
Konerko's homer in the fourth off Jake Westbrook (1-5) gave the White Sox a 3-0 lead.
Yankees 6, Blue Jays 1
At New York, Alex Rodriguez hit a go-ahead, two-run double in the seventh inning and the surging New York downed Toronto for its fifth straight win.
Roger Clemens pitched out of trouble for six gritty innings to keep New York close, and Andy Phillips delivered another clutch hit as the Yankees (48-44) moved a season-high four games above .500.
Mariano Rivera got five outs for his fourth save in five days.
By winning 11 of 14 overall, the Yankees have trimmed Boston's American League East lead to seven games -- the closest they've been since May 12. They also gave manager Joe Torre a nice 67th birthday present.
Alex Rios had four hits for Toronto. Shaun Marcum (5-4) got the loss.
Royals 6, Red Sox 5
At Boston, Billy Butler doubled in the go-ahead run in a four-run fifth inning and Kansas City battered Julian Tavarez and Boston.
After managing just one hit in the first three innings, the Royals scored twice in the fourth, then went ahead 6-4 in the fifth when they chased Tavarez (5-8) after his third straight poor performance.
In his last five starts, Tavarez is 0-4 with a 7.71 ERA and has allowed 42 hits in 23 1-3 innings.
Devil Rays 7, Angels 2
At St. Petersburg, Florida, Ty Wigginton homered and Carlos Pena hit a three-run double to back Scott Kazmir's strong pitching and lead Tampa Bay to the victory over Los Angeles.
Kazmir (7-6) allowed three hits and one run in seven innings to win for the second straight time at home after going more than a year without a victory at Tropicana Field.
The left-hander walked one and struck out six in his longest outing since going seven innings in a loss at Kansas City on June 1.
Wigginton's streak of eight consecutive hits ended in the second inning against Bartolo Colon (6-5), but the Devil Rays second baseman homered off reliever Dustin Moseley to begin a four-run sixth that broke the game open.
Tigers 3, Twins 2
At Minneapolis, Magglio Ordonez homered and drove in all three runs against Johan Santana, ending his five-start winning streak as Detroit edged Minnesota.
Santana (11-7) threw a season-high 118 pitches after persuading manager Ron Gardenhire to let him finish the eighth inning, but the Twins left 14 men on base. They lost their third straight to the Tigers and trail the American League Central leaders by eight games.
Andrew Miller (5-3) threw five innings for the victory, which was finished by Todd Jones for his 25th save in 29 attempts.
Other result on Wednesday:
* Mariners 6, Orioles 5
NATIONAL LEAGUE
Brandon Phillips' two-run single off rookie Jose Ascanio in the 15th inning gave the Cincinnati Reds a 5-4 victory over the Braves on Wednesday and their first three-game sweep in Atlanta since April 1990.
Phillips' hit drove in Norris Hopper and Ken Griffey Jr and helped the Reds improve to 8-3 in their last 11 games. Ascanio (0-1), the seventh Atlanta pitcher, gave up two hits and two unearned runs in two innings. The Braves have lost three straight.
Cubs 12, Giants 1
In Chicago, Carlos Zambrano pitched five shutout innings to become the National League's first pitcher to win 12 games this season, Koyie Hill drove in five runs on a pair of doubles, and the surging Cubs won for the fifth time in six games since the Major League Baseball All-Star break.
Matt Cain (3-11), the Giants' hard-luck right-hander, didn't allow a hit until Cliff Floyd's two-out single started Chicago's four-run fourth inning.
Rockies 5, Pirates 3
In Pittsburgh, Brad Hawpe and Todd Helton each hit two-run homers, Jeff Francis won his fifth decision in a row and Colorado handed Pittsburgh its sixth straight loss.
Francis (10-5) gave up six hits in seven innings, helped himself with an RBI single and left with a 5-2 lead. He is 9-1 in his past 13 starts, did not walk a batter and struck out six.
Nationals 7, Astros 6
In Washington, Ryan Langerhans hit a three-run homer, Jason Bergmann won for the first time in more than two months, and the Washington Nationals enjoyed a rare offensive outburst.
Bergmann (2-5) was charged with four runs and six hits over seven-plus innings, earning his first victory since May 14 when he took a no-hitter into the eighth against Atlanta. After that start, though, the right-hander went on the disabled list and has struggled since his return.
Washington did all of its scoring against Jason Jennings (1-6), who lost his fifth consecutive start -- the worst stretch of the 2002 National League Rookie of the Year's career to date. He went five innings, giving up seven hits and four walks.
Dodgers 5, Phillies 4
In Los Angeles, Andre Ethier hit a three-run homer, Luis Gonzalez added a tiebreaking solo shot in the sixth inning and the National League West Division-leading Dodgers won their second consecutive series since the All-Star break.
Rudy Seanez (6-1) got the victory by throwing one perfect inning of relief. Starter Chad Billingsley allowed four runs and seven hits in five innings, struck out four and walked four before turning it over to the bullpen, which gave up one hit in four scoreless innings.
Takashi Saito pitched the ninth for his 25th save in 28 chances.
Padres 5, Mets 4
At San Diego, Geoff Blum singled in the go-ahead run with two outs in the eighth for San Diego, which nearly wasted a brilliant performance by Greg Maddux before rallying past the National League East-leading New York.
Blum, subbing for slumping second baseman Marcus Giles, singled to right off Joe Smith (2-1) to bring in Khalil Greene and finished 2-for-3.
Milton Bradley and Adrian Gonzalez homered for the Padres, who took two of three from the Mets. Trevor Hoffman pitched a perfect ninth for his 26th save in 28 chances, his 22nd straight and the 508th of his record-setting career.
Cardinals 6, Marlins 0
At Miami, Kip Wells allowed two hits in eight innings and Juan Encarnacion drove in three runs as St. Louis blanked Florida.
Other result on Wednesday:
* Diamondbacks 5, Brewers 2
Comments will be moderated. Keep comments relevant to the article. Remarks containing abusive and obscene language, personal attacks of any kind or promotion will be removed and the user banned. Final decision will be at the discretion of the Taipei Times.