Argentina look to avenge 2004 defeat
DEADLY RIVALS The Argentines are tied with Uruguay for the most Copa America titles at 14, while Brazil have only seven, though they have won three of the last four
Argentina has Brazil right where they wants them -- in the final of the Copa America.
Irked by the way in which they lost the Copa final to Brazil three years ago in Peru, Argentina were glad both teams set up a rematch in the final today.
Argentina were moments from winning the 2004 final in injury time until Adriano scored for 2-2 in the dying seconds, forcing a penalty shootout in which Brazil prevailed 4-2.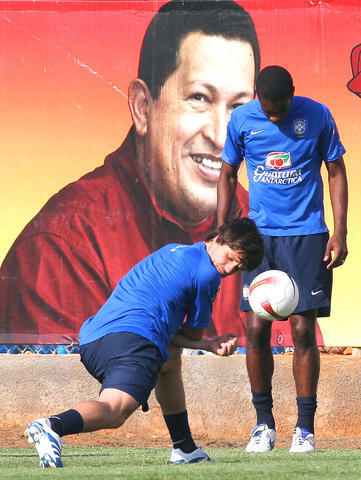 Brazilians Diego, front, and Juan train in front of a poster of Venezuelan President Hugo Chavez in Maracaibo, Venezuela, on Friday. Brazil face Argentina today in the Copa America final.
PHOTO: AFP
"It's a thorn I still have nailed to my back and I want to take it out," Argentina's Carlos Tevez said upon arriving in Venezuela three weeks ago.
That defeat, the first by Argentina to Brazil in nine Copa finals, made it easier for coach Alfio Basile to convince some of his best players to keep their boots on after the long European season. They haven't disappointed, justifying their pre-tournament favoritism by sailing through the first South American championship hosted by Venezuela.
Inspired performances by Lionel Messi, Tevez and Juan Roman Riquelme have helped the Albiceleste to a perfect 5-0 record, racking up a tournament-best 16 goals.
?
Argentina dispatched Peru 4-0 in the quarter-finals and Gold Cup runners-up Mexico 3-0 in the semi-finals, hijacking the jogo bonito (beautiful play) expected of their archrivals.
However, since making the final, the Argentines have been determined to play down hype that they were out to pay back Brazil.
"To focus in on the word revenge generates an obsession that can have a negative impact on the team's psychological health," midfielder Esteban Cambiasso said. "For us, the game is a great opportunity to be crowned champions, against a rival that we all want to play."
Unlike Argentina, Brazil were blown out by Ronaldinho and Kaka, who wanted a holiday. Robinho, whose six goals make him the tournament's top scorer, has filled in nicely but Brazil's younger team has still been inconsistent. They opened with a 2-0 loss to Mexico, edged Ecuador 1-0 in their last group match, crushed Chile 6-1 in the quarter-finals, and needed a penalty shootout to knock out Uruguay in the semi-finals.
"A lot of people, they say `Brazil doesn't play good, Brazil doesn't have the same team.' Of course, we are a new team that hasn't played together, with new players," Pele said this week. "But the most important thing is to represent your country in the finals and Brazil are doing that. It's something you have to respect."
The Argentines were the last people taking Brazil for granted, not only after what happened in 2004, but also because of games since in their storied rivalry.
Brazil won 4-1 to take the 2005 Confederations Cup, and 3-0 in London last September in Dunga's first match as coach. Midfielder Elano scored twice that day, and was expected to start today.
"There's no favorite when Argentina and Brazil play," said defender Javier Zanetti, one of six Argentine veterans of the 2004 loss who traveled to Venezuela.
Indeed, parity dominates the rivalry.
In 90 meetings since 1914 -- two years before the Copa America began -- Brazil have won 35 times to Argentina's 33, although Argentina have 146 goals to Brazil's 142.
Brazil have five World Cups to Argentina's two, but in the Copa America Argentina have ruled.
Argentina boast a 15-8-8 overall record in the tournament against their much larger neighbor.
The Argentines are tied with Uruguay for the most South American titles at 14, while Brazil were a distant second with seven, though they have prevailed in three of the last four editions of soccer's oldest international tournament.
Argentina's bid for their first Copa title since 1993 was likely to be without striker Hernan Crespo, despite his hopes of returning for the final after injuring his leg on a penalty kick during Argentina's 4-2 win over Colombia in group play.
Brazil will miss midfielder Gilberto Silva, who was automatically suspended after picking up his second yellow card against Uruguay.
"It's the big match, the one every player reaching the national team wants to play," said Brazil winger Daniel Alves, who will play against Argentina for the first time.
Comments will be moderated. Keep comments relevant to the article. Remarks containing abusive and obscene language, personal attacks of any kind or promotion will be removed and the user banned. Final decision will be at the discretion of the Taipei Times.