Chiese wary of opening cup clash with Malaysia
Regional giants China are wary of another shock Asian Cup result ahead of their opening Group C match against lowly Malaysia today.
On paper, the Chinese should romp home against the co-hosts but favorites Australia and Gulf Cup champions United Arab Emirates have already found to their cost that reputation counts for little in the regional showpiece.
The 2004 finalists are also coming off an unorthodox build-up, locking themselves away for a month after defeats to Australia, the US and Thailand left the axe hovering over coach Zhu Guanghu.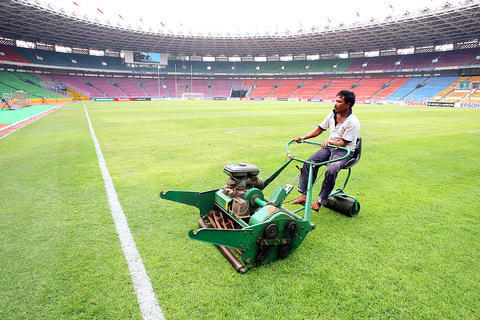 A worker mows the field at the Bung Karno stadium in Jakarta yesterday. Hosts Indonesia will play Bahrain in the first Group D match of the Asian Cup today in the Indonesian capital.
PHOTO: AFP
Indonesia will get Group D under way against Bahrain in Jakarta in today's other match.
"The opening match is always difficult especially when you're playing the hosts," said China's Zhu.
"The performances by Thailand and Vietnam were very good and we are taking this match very seriously," he said.
PHOTO: AFP
Striker Han Peng was also taking nothing for granted after Australia were held 1-1 by Oman and Vietnam stunned United Arab Emirates 2-0 on Sunday.
"When you play football everybody has a chance so it's very hard to say. Everyone has strengths and weaknesses," Han said.
China also face Iran and Uzbekistan in a tough Group C tagged the Cup's "group of death." They will be without midfielder Qu Bo who was injured in training.
Malaysia have their backs to the wall after a disastrous build-up and a FIFA ranking of 149, making them the tournament's bottom-rated team.
But coach Norizan Bakar urged his players to show their mettle against China's vaunted line-up including captain Zheng Zhi, Manchester United forward Dong Fangzhuo and Manchester City defender Sun Jihai.
"The question right now is whether our players want to be outdone by great players or whether they want to stop the great players," the coach said.
"We have to play China, Uzbekistan and Iran. Are we going to be outplayed by them or do we want to show them that we are at the same level?" he said.
With Shao Jiayi, Sun Xiang, Li Tie and Du Wei also boasting experience with European clubs, China should be a leading contender for their first regional crown.
But they have under-performed significantly since reaching the 2002 World Cup and the 2004 Asian Cup final, missing out on last year's World Cup and falling almost 30 places in the rankings.
Zhu is expected to pay with his job if China do not reach the semi-finals at least.
Meanwhile, Bahrain will be hoping to show their run to the 2004 semis was no fluke when they open their campaign against Indonesia.
The Gulf state only just squeaked through the qualifying rounds and will need a good start with past champions South Korea and Saudi Arabia also lurking in Group D.
Czech coach Milan Macala said whatever happens his young side would gain valuable experience.
"The tournament is very important for us as it will help us a lot. Even if we don't have good results it will be good for us to prepare the team for the World Cup qualifiers which will start after the tournament," he said.
Comments will be moderated. Keep comments relevant to the article. Remarks containing abusive and obscene language, personal attacks of any kind or promotion will be removed and the user banned. Final decision will be at the discretion of the Taipei Times.