McEwen crashes, wins Tour's first stage
Even Robbie McEwen couldn't believe he could crash and recover to win the first stage of the Tour de France.
With just 20km to go in the 203km trek between London and Canterbury, McEwen was forced to brake due to riders ahead, and was hit by a cyclist from behind -- sending the Australian flying over his handlebars and onto the road. He cut open his right knee.
"It's worth that pain to have a stage win in the Tour de France," McEwen said after the 12th stage win of his Tour career.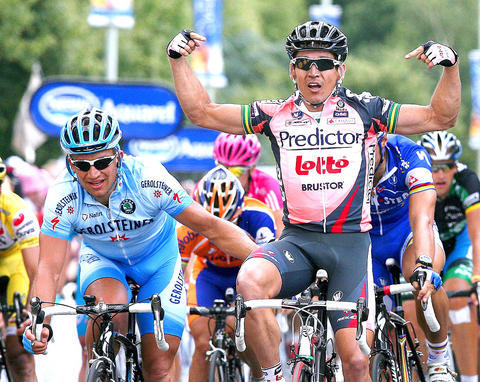 Robbie McEwen, right, of Australia celebrates next to Germany's Robert Foerster after winning in a sprint during the first stage of the 94th Tour de France cycling race between London and Canterbury on the Tower Bridge of London on Sunday.
PHOTO: EPA
"This is definitely one of the best ever. After the crash, I hurt myself -- hurt my wrist -- but the boys brought me back. I still can't believe I won this stage," he said.
McEwen found himself pushed to the back of the pack along with one of the British hopes, Mark Cavendish, who also fell. McEwen received no help from rival sprinters, aside from his team.
"It was very hard to come back," McEwen's Predictor-Lotto sporting director Hendrik Redant said. "Quickstep and Lampre went flat out. That's normal because Cavendish and McEwen had crashed."
PHOTO: EPA
Belgian rider Leif Hoste and his teammates worked frantically to pull McEwen back.
"They caught up with four or five kilometers to go," Redant said. "The roads were very narrow so it was very hard."
McEwen's comeback bore shades of the 2003 Tour, when Lance Armstrong tumbled on a climb to Luz-Ardiden after catching his handlebar on a spectator's bag. Like Armstrong, McEwen would prefer to lose to a better opponent than to bad luck.
Making his way back to the front, McEwen joined a clutch of sprinters climbing a small hill some 500 meters from the line. All were jostling for position, trying to find the best angle of attack while protecting their flanks.
"It was out of control," said McEwen, who tied German veteran Erik Zabel with 12 stage wins.
Comments will be moderated. Keep comments relevant to the article. Remarks containing abusive and obscene language, personal attacks of any kind or promotion will be removed and the user banned. Final decision will be at the discretion of the Taipei Times.