Cancellara dominates Tour prologue
DOGGED BY DOPING Moving the start of the race to Britain provided a change of scene, but it didn't help that a member of the EPO-tainted CSC team won on Saturday
The Tour de France got a needed dose of inspiration from its first start in Britain on Saturday, but fallout from doping was high in the mind of the Swiss rider who won the race's prologue.
World time trial champion Fabian Cancellara dominated the field of 189 riders through the heart of London, brightening moods at his Team CSC after their manager said on Thursday that he'd stay home this year.
CSC sporting director Bjarne Riis stunned the cycling world in May after admitting that he used the banned performance enhancer EPO to win the Tour in 1996, turning him instantly into persona non grata among race officials.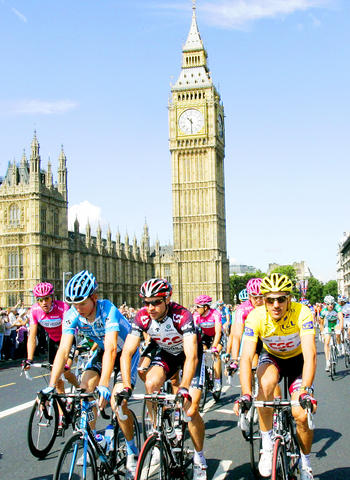 Fabian Cancellara of Switzerland, first right, rides past Big Ben's clock tower in London prior to the start of the first stage of the 94th Tour de France yesterday.
Photo: AP
"What's really hard is when we saw that he's not with us on the Tour, but everybody's holding up," Cancellara said. "Today was a very important day for the team.
"There are a lot of problems in cycling, but I want to look to the future. And if you keep looking back at the past, of course, it's hard."
Cycling has been battered by doping scandals, allegations, and admissions over the past year, and that's saying a lot for a sport linked to widespread use of banned performance enhancers for decades.
Riis is not alone in sitting out this year. Others excluded or not attending this Tour are sprint ace Alessandro Petacchi, Team Milram boss Gianluigi Stanga, Astana riders Matthias Kessler and Eddy Mazzoleni, plus Tinkoff riders Joerg Jaksche and American Tyler Hamilton.
While the Tour has twice come to Britain, the London debut was a first - and race organizers clearly hoped to parlay the novelty and the enthusiasm of British fans into a clean start for the sport.
"Doping is the enemy of cycling," Tour director Christian Prudhomme said. "Sport is a reflection of society, and there are wonderful people involved in cycling."
Tour officials, fearing that fans will turn away, have sought to rebuild the sport's battered reputation, requiring all riders to sign a new International Cycling Union anti-doping commitment.
In it, riders said they are not involved in doping and promised to submit DNA samples to Spanish authorities in the Operation Puerto probe that erupted last year. Cyclists also had to agree to pay a year's salary on top of a two-year ban if caught doping.
As a stage winner, Cancellara was automatically tested for doping, though the results will not be known for several days. Most tests turn up negative.
But the most explosive exception in recent memory came after last year's Tour, when American Floyd Landis tested positive for synthetic testosterone - a charge he has repeatedly, and at times clumsily, denied.
An arbitration panel is considering whether Landis should lose his title after the positive test following his dramatic victory in the 17th stage last year. He claims he's been wronged by a French lab.
Riders will be hard-pressed to convince fans they're clean through the 3,412-kilometer (2,120-mile), three-week event that will feature six mountain hikes, three summit finishes and two individual time trials.
They set off one by one in Saturday's race against the clock, whirring past London's classic landmarks like the Houses of Parliament and Buckingham Palace, and through Hyde Park.
Cancellara, who also won the Tour prologue in 2004, clocked 8 minutes, 50 seconds for the 7.9km time trial. He will don the race leader's yellow jersey for Sunday's first stage from London to Canterbury.
Germany's Andreas Kloeden, who was third in last year's Tour and was runner-up to Lance Armstrong in 2004, placed second, 13 seconds behind. Kloeden was a newcomer to the Astana team, which was ousted from the Tour last year after five of its riders turned up in the Puerto file.
American George Hincapie, a former Armstrong lieutenant who was runner-up by a split-second in last year's prologue, was third, 23 seconds off the pace.
Cancellara also spoiled the hopes of Britain's Bradley Wiggins, a close fourth, to bring victory to the home fans.
"I'm really disappointed for him," said David Millar, referring to Wiggins.
Millar, who was 13th on Saturday, won the Tour prologue in 2000 and has been a vocal advocate of clean cycling after returning last year from a two-year ban for using EPO.
Stuart O'Grady of Australia took a spill after hitting a straw barrier coming out of a turn, losing time as he hopped on a new bike that was delivered from a trailing support car.
Comments will be moderated. Keep comments relevant to the article. Remarks containing abusive and obscene language, personal attacks of any kind or promotion will be removed and the user banned. Final decision will be at the discretion of the Taipei Times.