Klitschko retains heavyweight titles
SWEET REVENGE The giant Ukrainian dominated his fight with his American opponent, who was clearly carrying a few extra kilos after a year out of the ring
Wladimir Klitschko beat Lamon Brewster with a technical knockout after six rounds to successfully defend his IBF and IBO heavyweight titles on Saturday and make up for one of the most painful losses of his career.
"I have waited for this fight for three years," Klitschko said. "This was incredibly important for me. Today I could not lose. My confidence was such I simply could not lose."
The Ukrainian clearly dominated the first five rounds, making repeated contact with his strong left jab that largely went unanswered.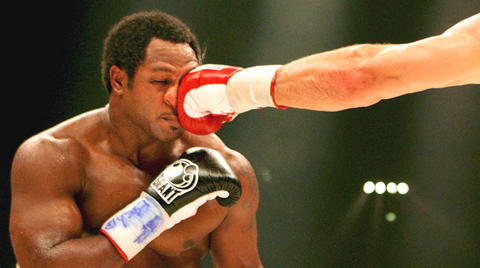 IBF and IBO world heavyweight champion Wladimir Klitschko, out of shot, lands a blow on Lamon Brewster during their fight at the Koelnarena in Cologne, Germany, on Saturday night.
PHOTO EPA
Brewster seemed to be standing up to the constant punishment, but two massive left-right combinations in the sixth round rocked the American. Before the seventh could start, Brewster's trainer, Buddy McGirt, flapped his towel and referee Sam Williams called the fight.
"He was the better man tonight. I did my best. I felt prepared but he won fair and square," Brewster said.
Seeing Klitschko gaining momentum and his own fighter rooted to the spot, McGirt told Brewster after the fifth round he was thinking of retiring him. But he gave Brewster one last chance to turn the bout around.
"You could see Wladimir was picking it up. I knew he'd set him up for the kill," McGirt said. "I gave him one more round but I told him I didn't want to see him get hurt. Wladimir was getting more confident so why take a chance with his life?"
Brewster would have continued, but placed his faith in his coach's decision.
"Naturally, I wanted to continue," he said. "I'm a dog. I'll fight until the end. I knew I was having trouble. I was being jabbed and he was outmaneuvering me. Buddy said `You've got a wife and kids, we can always pick this up another day.' So I said OK."
Both trainers said afterward that Klitschko would have knocked him out in the seventh round.
When the two met in 2004, Brewster stopped Klitschko with a fifth-round TKO to win the vacant WBO championship in Las Vegas.
Klitschko dominated that fight early on and knocked down Brewster in the fourth round, but the American was saved by the bell. Two left hooks by Brewster in the fifth turned it around.
On Saturday, Brewster was returning after a yearlong absence following a loss to Sergei Liakhovich in April last year during which the American suffered a detached retina in his left eye that required surgery. He returned from his layoff to fight Klitschko without even a warmup bout.
His time away from the ring was apparent. While Klitschko was pure muscle, Brewster was clearly carrying extra weight around the middle. Before his injury, Brewster successfully defended the WBO heavyweight title three times -- against Kali Meehan, Andrew Golota and Luan Krasniqi.
Klitschko's record is now 49-3, with 44 knockouts.
The Ukrainian weighed in at 244 pounds (111kg), 15 pounds more than his opponent.
"He took quite a beating," Klitschko said. "I was surprised they gave in but today I knew I would not lose."
Comments will be moderated. Keep comments relevant to the article. Remarks containing abusive and obscene language, personal attacks of any kind or promotion will be removed and the user banned. Final decision will be at the discretion of the Taipei Times.