Zizou coaches Indonesian president
PRAISEWORTHY President Susilo Bambang Yudhoyono called Zinedine Zidane ``a great man'' after the Frenchman presented him with signed shirts and several soccer balls
French soccer hero Zinedine Zidane gave a spot of coaching to Indonesia's president yesterday as he began a three-day visit to the world's fourth most populous nation to promote his sport to children.
Clad in a batik shirt, jeans and runners, "Zizou" helped Indonesian President Susilo Bambang Yudhoyono along with some of Indonesia's young players practise a few passes as they met in the gardens of the presidential palace.
"I'm sure I'm going to have great pleasure and a lot of fun here in Indonesia as this is my first visit," the 35-year-old told reporters on the eve of the Asian Cup tournament which Indonesia is co-hosting.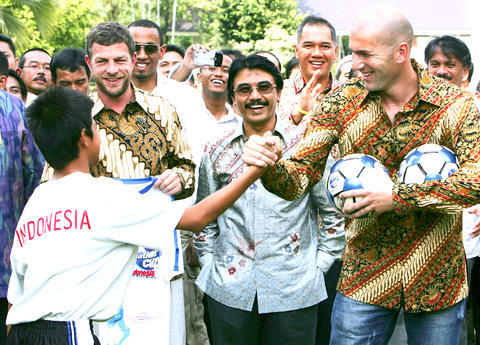 French soccer star Zinedine Zidane, right, shakes hands with a young Indonesian soccer player yesterday in Jakarta. Zidane met with Indonesian President Susilo Bambang Yudhoyono and hundreds of lucky guests yesterday at the government palace.
PHOTO: AP
"People talked a lot about the kindness of Indonesian people and I can already see [it] in the eyes of the people since I arrived at the airport," he said.
Turning to Yudhoyono he said, "I have a present for you Mr President," before handing him two signed shirts and several soccer balls.
The president said he hoped Zidane would "inspire" Indonesia's young soccer players.
"You are a great man," Yudhoyono told Zidane after juggling a ball with him. "You are very famous here in Indonesia, you have a lot of fans who admire you."
Many palace workers brought their children along to see Zidane, creating a party atmosphere at the normally stuffy palace.
A motorcade for the French star is reportedly planned through the normally traffic-snarled streets of Jakarta early tomorrow morning, when he will also meet the city's governor.
The soccer player is also expected to hold a coaching clinic for children during his visit in his role as an ambassador for children's programs for French company Groupe Danone.
Comments will be moderated. Keep comments relevant to the article. Remarks containing abusive and obscene language, personal attacks of any kind or promotion will be removed and the user banned. Final decision will be at the discretion of the Taipei Times.